Distant future has finally come. The development of medicine has reached staggering heights. Now you do not need a transplant. Patients organs can be replaced by artificial at the right time for cash, and of credit, of course. And if you can not pay the bills? Here in the case and take the Ripper. Raimi (Jude Law) and his friend Jake (Forest Whitaker) is engaged in this craft. They kill clients and their bodies returned to the manufacturer. But they are people too. And one day, apparently failed to Raimi, he is in serious condition was on the operating table, where he was in debt put a new heart. Now, Raimi to pay, I was almost the rest of his life killing customers and corporations to take organs. But it happened after the operation some kind of weird psychological breakdown. Raimi felt no longer able to carry out the dirty work of the old, and unable to repay the loan, he decided, together with his ex-wife Beth (Alice Braga) to escape and hide. However, after realizing that it is impossible for life to run, Raimi decided on a crazy move. He returned to the corporation to destroy the whole system of the creation of human organs.
Repo Men (Repo Men), US
Director: Miguel Sapochnik
Cast: Jude Law, Forest Whitaker, Liev Schreiber, Alice Braga and others.
Producers: Andrew Z. Davis, Mike Drake, Mary Parent
Writers: Eric Garcia, Garrett Lerner
Composer: Marco Beltrami
Operator: Enrique Chediak
Premiere (World): March 19, 2010
Premiere (RF): April 1, 2010
Posters for the film: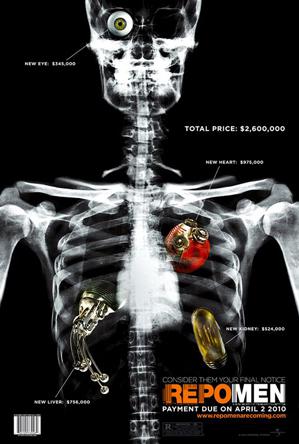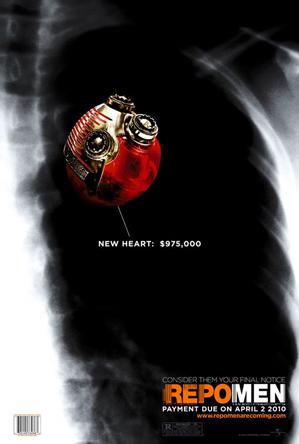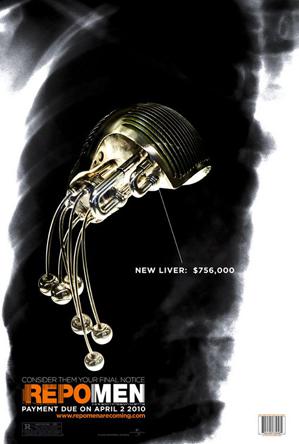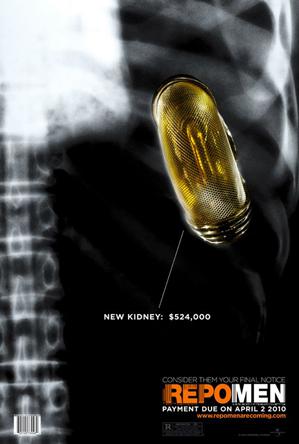 Stills: