July 18 marks the 46 th anniversary of one of the most recognizable actors in Hollywood - charismatic blame diesel. Diesel - a unique actor, his kind face, powerful mounds of muscle and shaved skull define extremely narrow limits of the range of role. The most recognizable role at first glance can be described as "Vin Diesel Vin Diesel in the role."
He plays mostly poluugolovnikov-semi-extrema, which are used to solve problems by force, and even people with very poor eyesight would suspect it intellectual and talented actor with classical training.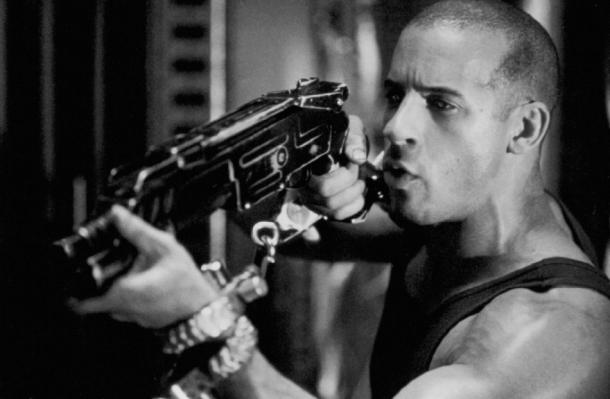 And, in general, nothing.
Mark Sinclair Vincent (Seriously? Mark Sinclair?)) From 7 to 17 years of playing in the theater, and then studied at Hunter College English classical literature and screenwriting skills. (And he was thin and shy meet girls)) Even before the actor's career Diesel (the nickname he picked up in 17 years) independently wrote and directed 2 films.
First - Short entitled "The Many Faces" - was shown at the Cannes Film Festival in May 1995, and after 4 years was released on DVD rentals in the United States. The second - the film "Rolling Stone" - was presented at the influential arthouse film festival "Sundance" in 1997.
Both films, in which, by the way, Diesel played the leading role, received positive reviews from critics, and gave a great start to his film career. It was at Sundance Diesel noticed by Steven Spielberg, and gave him a small role in the movie "Saving Private Ryan." Next is the more or less official biography, which we will not dwell.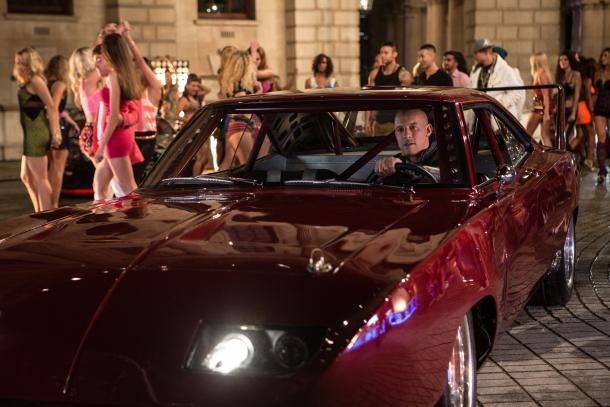 How Come? Because, even in recognizing the existence of serious Vin Diesel actor, writers', directors' and producers' talents, we love it not for that! We love him for his muscles, shaved head and glare. For self-confident smile and a hot scene with Michelle Rodriguez in the garage. And most importantly - for what it is amazing, inimitable, magically cool!
We love to see how it breaks down walls, destroying enemies right and left (no matter it or nekromongery drug dealers), expertly manages all modes of transport, including nuclear missiles, and after another to save the world is pulled on the beach with live beauty. For this we are willing to forgive him not only a violation of the laws of physics, the SDA and just laws, but even that is actually his name is Mark Sinclair.
Because of talented actors in Hollywood lot. And Vin Diesel this one!
For connoisseurs represent the top 5 fighters, where you can admire the Vin Diesel.
1. pitch darkness / Black Hole (2000) / The Chronicles of Riddick (2004). Director - David Twohy
Genre: Fantasy, Action, Thriller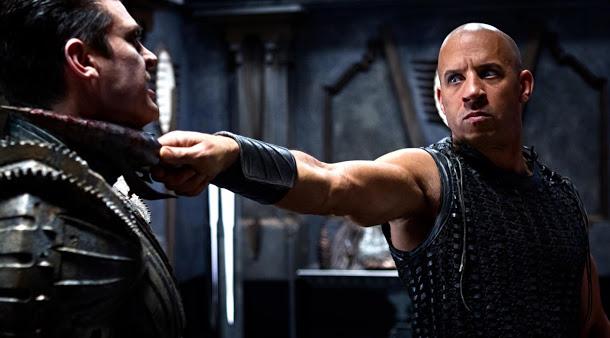 Role of space criminal Richard B. Riddick as if written specifically for Diesel. His hero Riddick furianets - a real predator, powerful, rapid and dangerous. His cunning and unique abilities allow to survive in the most hellish conditions, and the glowing white eyes and hide them superhuman emotions gives it a special charm gloomy, to which female characters just can not resist - they literally do not survive to the end of the film.
Everything else is in the best traditions of the genre - fighting, shooting, explosions, beautiful reflective shiny skull from Diesel. Good news - Part 3 entitled "Riddick" out in 2013!
2. Fast and Furious 1, 3-6 (2001-2013). Directed by Rob Cohen (1), Justin Lin (3-6)
Genre: Action, Thriller, Crime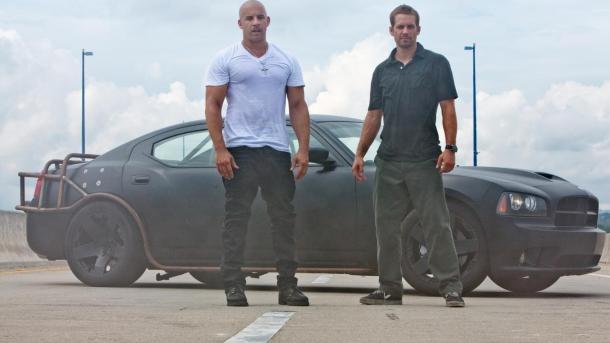 Long-playing franchise on the street racer for more than 10 years breaking records of popularity, largely due to the charismatic ringleader street racing Domenico Torretta by Vin Diesel. Acting Diesel particularly nowhere to turn, but in this role, he is so convincing, as if all his life burned tires on the asphalt in the suburbs of Los Angeles and robbed Trailers and his gang.
Street racing champion, in addition to driving skills, demonstrates the high art look good in a vest and without it (this is especially good at in scenes with Michelle Rodriguez). Well, cars, car chases, shootouts ... So will see what.
At this point 6 parts came from which Vin Diesel present in 4 (and in one episode 3 parts). And that's not the creators of the Fast and the Furious in a hurry to press on the brakes - at the end of the 6 has been shown more than a hint of the plot opaque film 7. New enemy of Vin Diesel in 2014 will make another skinhead soldier - Jason Statham, only slightly inferior to diesel in the ability of stress to remain silent in the frame. We can not wait!
3. xXx / XXX (2002). Director - Rob Cohen
Genre: Action, thriller, adventure, crime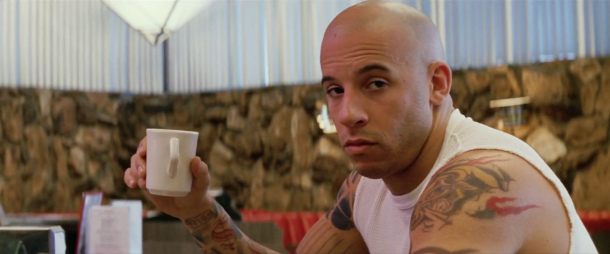 In 2002, to the outstanding skills of Vin Diesel run, ride, fight, shoot and sparkling eyes, add a few kinds of extreme sports in the movie xXx. It all starts with a favorite even in chips Diesel Fast and Furious - to steal an expensive car, and dump it from the bridge (it looks like it is the same tradition as being killed every movie for Sean Bean).
But there is a man who looks like Richard Riddick and Domenic Torretta, name Xander Cage, and it has some more tattoos, although he has been all the same - violates the law in search of thrills. Only in this film he donarushaetsya to the fact that his government will appoint a special agent with the call XXX and forced to fight with the Russian mafia, wearing a fur coat and saddle rocket. And no wonder - all of these skills will be useful to him in the next movie.
4. Babylon AD (2008). Director - Mathieu Kassovitz
Genre: fiction thriller, cyberpunk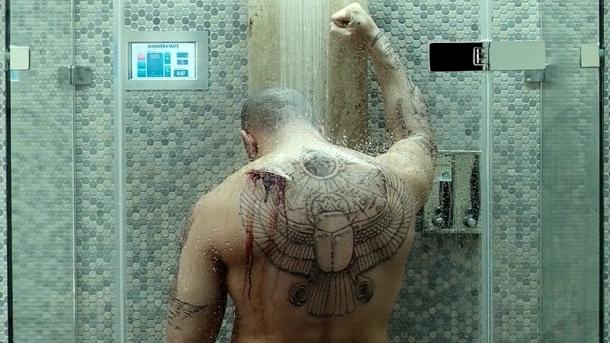 This movie was going on hopefully. Postapokaliptichny stylish visuals, interesting dystopia, cult director, a stunning soundtrack, custom lokeyshn - New Siberia near future, the actors of the highest class - Gerard Depardieu, Charlotte Rampling, Mark Strong. And of course, Vin Diesel (here - a mercenary Toorop), in three Iksah learn the basics of survival in Siberia to drink vodka, wearing a fur coat and ride bombs. However, instead of coat he wears a warm jacket Alaska, fingers covered with Russian prison tattoos, transportation advocate tanks, trains, submarines and snowmobiles, and all the vodka on the set drank Depardieu, who on occasion had grown huge nose.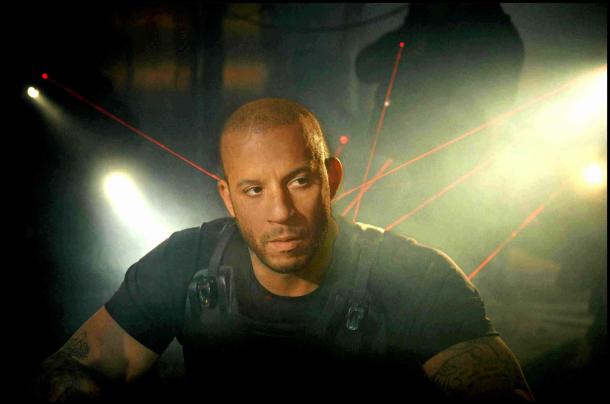 But, as often happens, a great idea ruined by the bureaucracy, to be exact - studio interference, reducing the timing and budget constraints. Because of this, the final crumpled, torn storylines, and the viewer is at a loss. Diesel But here no less charismatic than usual, light stubble gives it a very classy look, and torso, he still manages to show, despite the Siberian frosts. Moreover, in addition to the torso, Vin sometimes demonstrates the most acting, which was mentioned above - this role carries a more sophisticated dramatic potential than the previous ones.
For those who have already started to worry - explosions, fights and beautiful girl also available.
5. Single / A Man Apart (2003). Director - F. Gary Gray
Genre: Action, Thriller, Drama, Crime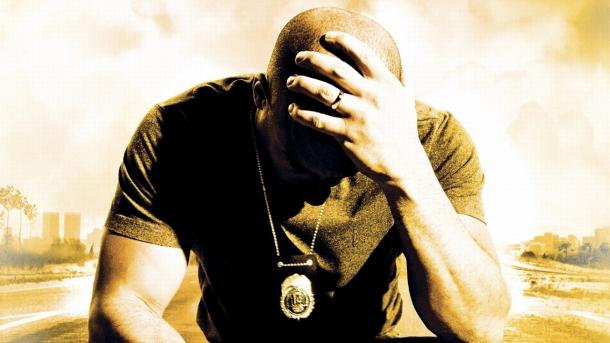 Not the most well-known role in the filmography of the actor and the film did not find any particular response from the audience, nor the critics. But, surprisingly, not counting all the franchises listed above, Diesel there are not too many fighters. And to be precise - one. This. Single - a film that at first glance differs from the others in this list. The dramatic element in this film dominates the action game.
Vin Diesel as an agent of the Anti-Drug looks a little strange. But, despite the fact that 99% of the films he is on the other side of the fence and looking for ways to evade the law, to be a servant of the law itself he gets quite organically. After all, the result of one - a man with a gun, just cross the line of the law for the sake of friendship, love and revenge.