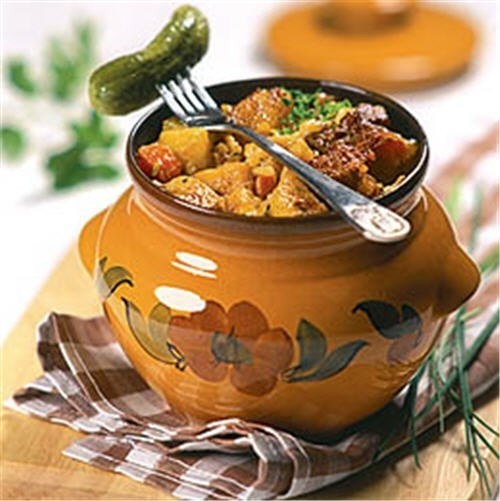 Ingredients (for 1 pot)
250 g beef
Potatoes - 3 pcs.
Carrots - 1 pc. (Not large)
Onions - 1 pc.
Tomato - 1 pc.
Sweet pepper - 0, 5 pcs.
Any greens - a small bunch
Garlic - 1 clove
Mayonnaise, sour cream (1 tablespoon)
Salt and pepper
Bay leaf
Black pepper peas
Spices for meat
Preparation:
Cut the meat into portions pieces, add salt and pepper to taste.
Onions and carrots chopped, lightly sauté.
Add chopped meat, fry until half. Slice the potatoes, tomatoes and peppers, add chopped greens.
Boil water in a small saucepan, add spices for meat, bring to a boil and turn off.
In a pot put the meat, then vegetables on top of the mixture of mayonnaise, sour cream and mashed garlic.
Pour a little water with spices (about half the pot).
To preserve flavor, under cover better put a layer of foil.
Cook in the oven at 180 degrees for 35-40 minutes.