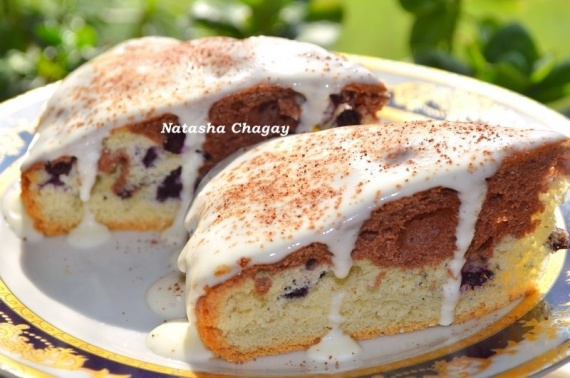 Dough:
4 small eggs
sugar 130 g
flour 200g
soda (to pay off) 1/3 tsp
cocoa 1 tsp without slides
any berries to taste handful
Cream:
sour cream 150g
sugar 2-3 tbsp.
Beat eggs and sugar in a very lush mass, add soda and flour gradually. 2/3 of dough poured into the mold, the rest of the dough add cocoa. On top of the white dough put berries coated in flour, dough and dark chaotic. Oven at 170-180 * 20-30min (check match). Mix sour cream with sugar and leave to dissolve sugar. Cool cake can be cut and soak, fluff cream. I just soaked sweet little water on top and poured cream.
Bon Appetite!