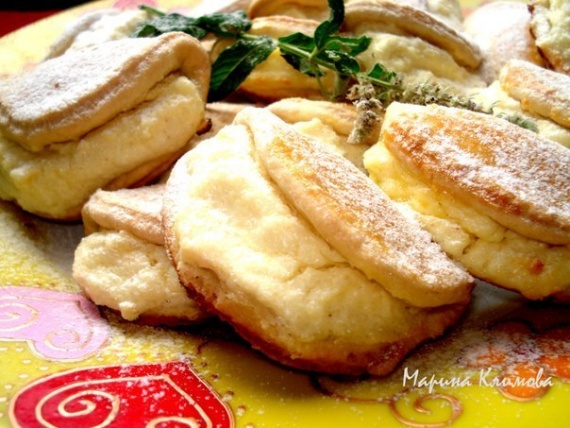 For the preparation we need such products:
Eggs - 2 pcs
Sour cream - 200 g
Sugar - 150 g
Butter at room temperature - 150 g
Baking powder - 2 ch.lozh
500 - 600 g flour
For the filling:
Cottage cheese - 400 g
Sugar - 120 g
Semolina - 1 st.lozh
Egg - 1 pc
Yolk - 1 pc
vanilla sugar - 1 ch.lozh
Method of preparation:
Sour cream, eggs, sugar and butter, beat.
In a bowl sift flour with baking powder, knead a soft dough.
Prepare the filling. Rub the cheese with the remaining ingredients until smooth.
Roll out the dough to a thickness of about 5 mm and cut circles out of it with a diameter of 9-10 cm.
On each circle put 1 tbsp filling and cover the free end (not zaschipyvaem).
Sochniki put on a baking sheet, pre-oiled, greased with the yolk and bake in a preheated 200 degree oven for 20-25 minutes until golden brown.
When serving sprinkle with powdered sugar. Very tasty with cold milk.
Bon Appetite! Cook with love!