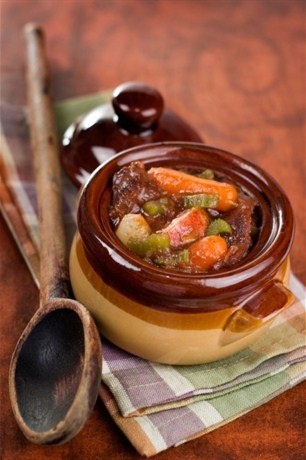 Ingredients for 4 servings:
Onion 5 heads
2 kg of potatoes
Cheese 400 g
Butter 200g
Sour cream 8 tablespoons
8 tablespoons mayonnaise
Milk 2 tablespoons
Salt to taste
Ground black pepper - to taste
Greens - to taste
How to:
1. Cut the meat into small slices, season with salt and pepper, mix with finely chopped onions and a small amount of oil and leave it for a while.
2. Potatoes cut into strips, except for one potato - it needs to be cut into slices. Meat and onions expanded in a pot. There also put the potatoes and mix. Top cover with the contents of each pot potato slices.
3. Mix the sour cream, mayonnaise and milk. Over the potatoes, place in a pot every piece of butter, sprinkle with grated cheese and pour the cream sauce.
4. Preheat the oven to 220-240 degrees. Put there pots and bake for 30-40 minutes. Then remove, sprinkle with herbs and serve directly in the pot.