In Kiev Hydropark is an interesting place where local cranks swing muscles at the gym from scrap.
Cportsmeny-weightlifters began construction of a sports complex in the 70-ies of the last century.
Today, the "shaker" can be found both young and brave pensioners who fears neither cold nor hot.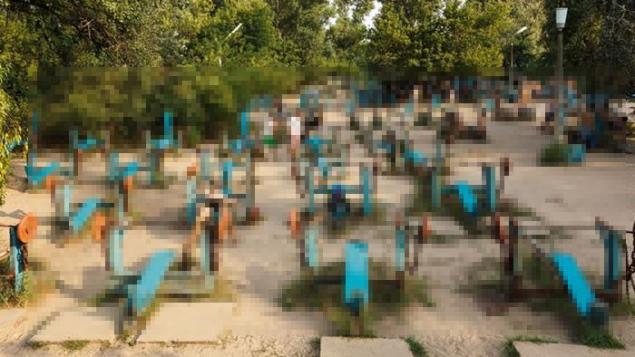 In the vast park on the banks of the Dnieper can find fitness equipment for all muscle groups. They are made of scrap metal, auto parts, building blocks, wooden planks and other trash.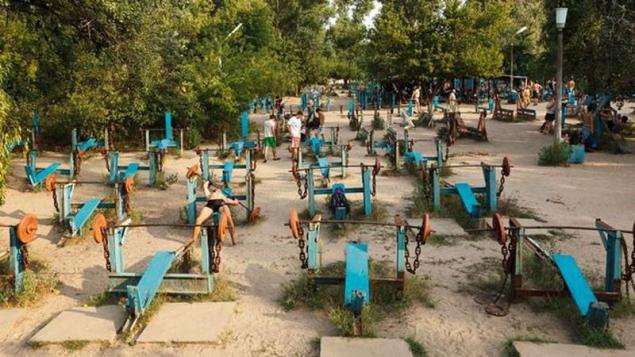 These pictures are taken from the album «Kachalka. Muscle Beach »photographer Cyril Holovchenko.
In selecting topics for their projects Holovchenko usually guided, first and foremost, not their market value, and their own "visual interest" as he stressed in an interview with Deutsche Welle. Gym in the open interest him back in 2010. Since then Holovchenko visited Gidropark five times, photographing amateur bodybuilders for one to two weeks.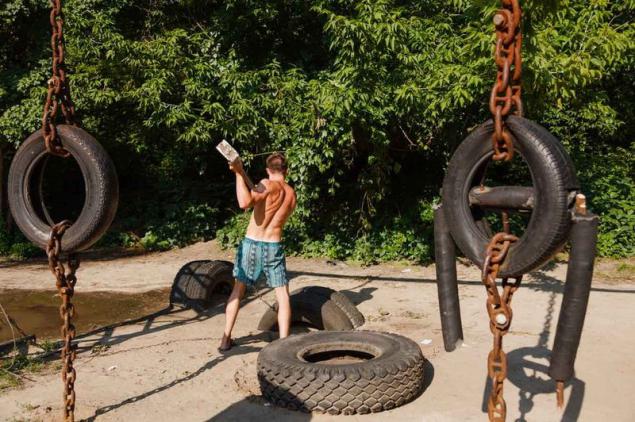 "I was shocked. I think it was love at first sight, - says the photographer. - Then he looked again, in more detail, and "rocking" me even more impressed. These sculptures, another name for trainers I do not find, you just need to put in a museum. This, if you want a modern land art, new constructivism ».
Cyril Holovchenko interested not only shape but also the color that dominates the Kiev fitness center in the open air: faded blue, which he believes is a typical Soviet color. "It is becoming clear in what time interval we generally are. And it begs the question whether it can all exist at the same time, when Ukraine holds Euro 2012? It looks like a mockery, - says the artist. - But in fact what is happening there is a certain kind of avant-garde, even if it looks old ».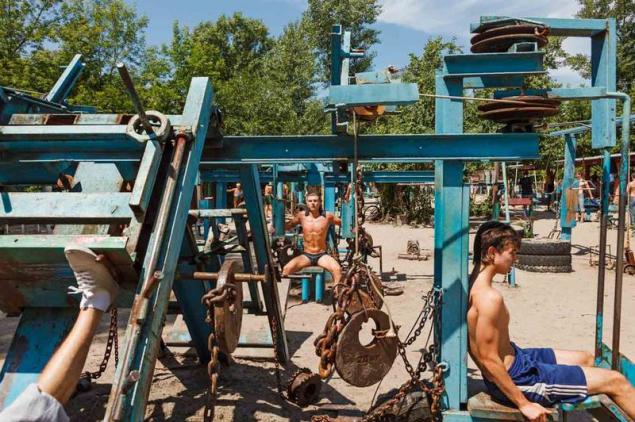 German media interest in the project «Kachalka», because they see it as ideology and symbolism, and not just an unusual picture, says Cyril Holovchenko. The popular German magazine NEON published several pictures that are included in a new book. "Ukrainian bodybuilders in the gym free of charge under the open sky are trained better than the owners of monthly subscriptions in the German fitness clubs that pay seventy euros a month and never to go", - says the reviewer Jakob Schrenk (Jakob Schrenk), praised the work Holovchenko.
Photos of the project Kachalka published both German edition - the magazine GEO. One reader responded to this publication as follows: "The report shows the ideal Ukrainian soul in the era of the breakthrough into modernity. Fitness park has become a real cultural heritage, which illustrates the liberation of Ukraine from the pressure of the Soviet Union. Therefore, it is necessary to include in the list of UNESCO World Cultural Heritage ».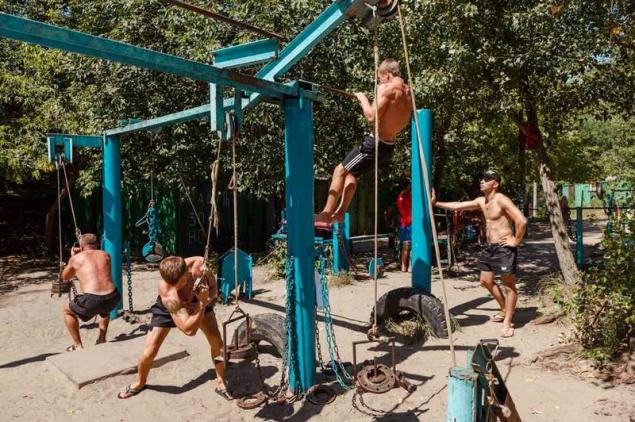 Spiegel Online also saw in the papers Holovchenko meaningful metaphor. "From all this with his bodybuilding jerks emerges a new, ambitious image of Ukraine. The will of the country, the political system is teetering between democracy and oligarchy, seems almost eerily, "- writes Spiegel Online in book reviews. "Pitching" Hydropark steel face of modern Ukraine and correspondent Tagespiegel Myullinga Jens (Jens Mühling), who personally met with them and homemade simulators "rocking" during the European Football Championship.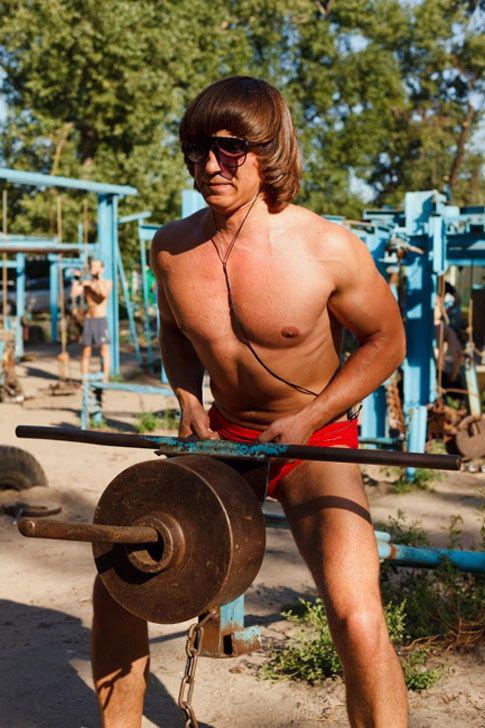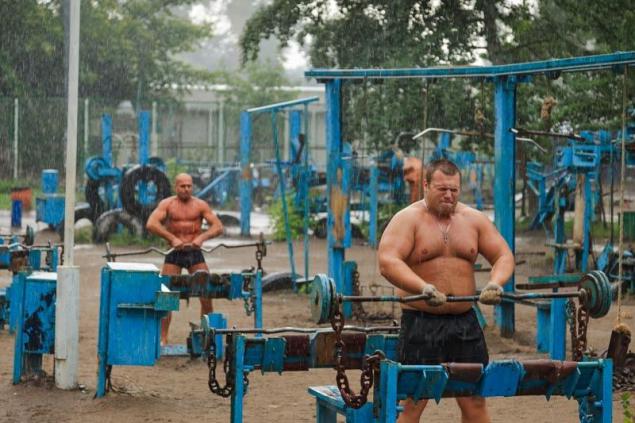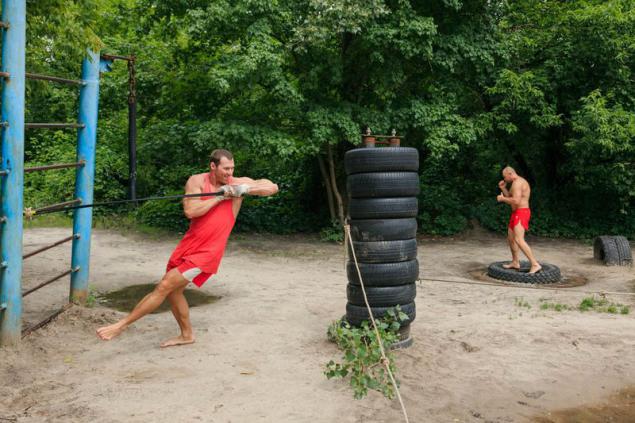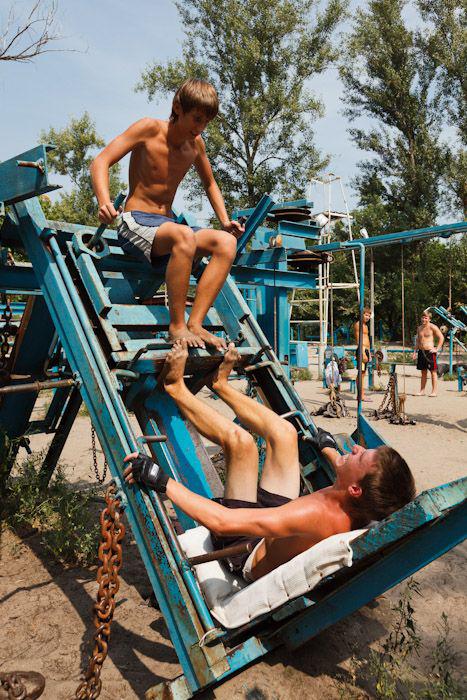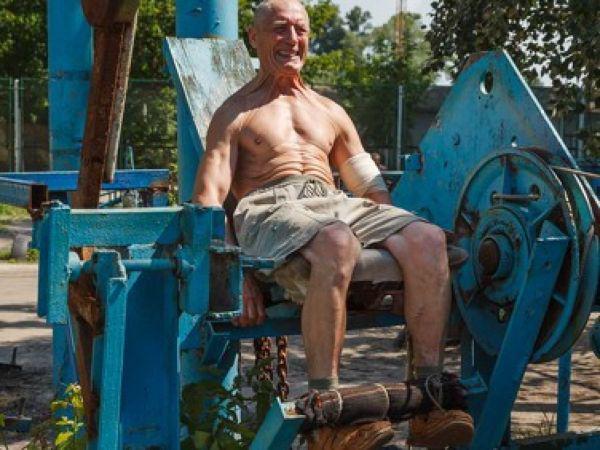 Source: imgur.com,
www.dw.de