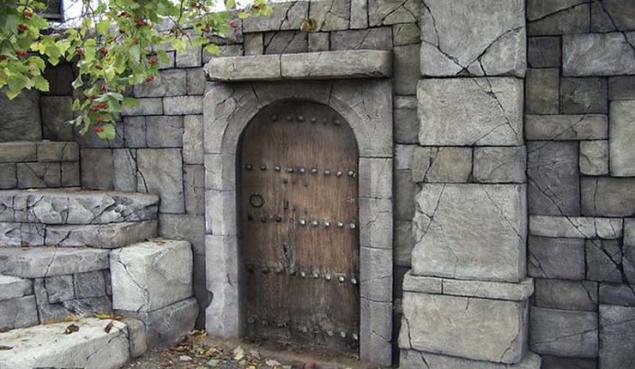 For any home owner it is important to have around the house durable and beautiful fence. Comfortable design of doors and gates, the durability of their use, high-quality finishing materials, architectural originality - these are the qualities that put the real masters of the concept of "good fence of stone."
Classic stone fence is a traditional element of the fence, and an attribute of a good home-style knight "Lion Heart", the European crown graph or the famous pig Naf-Nafa, who generously gave of efforts to build a stone house, for sure fortified wall, save yourself and your friends are not very industrious from the villain wolf.
To add a fence made of stone and iron can be wooden and bamboo items, but the strength and durability provided the basis of a durable artificial stone. Who is not afraid of no wind, no acid rain, no time, that is, will not lose its remarkable properties many decades later.
Stone fences are durable and strong. To build a solid fence is usually used cobblestones or limestone, they are well modeled architectural concrete. Aesthetically pleasing look of stone fences, which are built of hewn stone. Hewn stone has a regular shape that allows you to perform more precise form of the fence. It happens that the fences are made of rubble stone. The irregular shape of its elements is perfect for this purpose. Such fences give the overall appearance of the house of some antiquity and uniqueness.
For the construction of the fences are often used stones of medium size. Sometimes, to emphasize the fence is inserted into the masonry fence a stone marker. They cover several rows of masonry and serve as a decorative element. It is desirable that the stone for the construction of the fence was a flat line that laid face down on the street side of the plot.
Rarely used in the construction of fences small fraction of gravel and pebbles. This fence is not a high strength and solely from such materials rarely operate fences. The thickness of the solid stone masonry should not be less than 40 cm. When the wall in length of more than 20 m, every 8-10 m satisfied with the supporting pillars - it gives the necessary fencing structure and rhythm.
Fences are built of natural stone, in need of the device strip foundation. To build a stone fence used liquid mortar. If you plan to erect a stone wall by the "dry" it is important to know that the thickness of the walls of the fence should be higher. The resulting joints clog fertile soil, which subsequently planted ornamental vines and moss. The upper edge of the stone fence equipped with a cornice of flat stones or slabs.