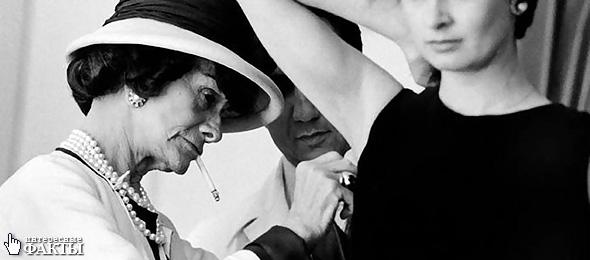 This influence is not limited to fashion. It has changed our women, their behavior, their place in life ... She admired the suit, thus creating the most feminine thing in the world.
Sometimes, many believe that its contribution to fashion is limited to the little black dress, which is known to be in every woman's wardrobe, but this contribution is not limited to Coco. And there is a lot of interesting things that we do not know about it ...
So,
Coco Chanel loved pockets. She was sure that things do not have enough female pockets, this men's costume details. And brought them not only in clothing but also in accessories. The main part in handbags from Chanel to this day - pockets!
Initially, it started as a hobby. Coco began with the creation of hats, which later won the hearts of aristocratic Paris. Many of her hats were for that time too fancy and innovative. It was only later an innocent hobby of designing unusual things become a lifework.
Coco started out as a dealer jersey. Did you know that before becoming a legend, Coco was a common clerk in a small shop jersey?
Coco is one of the first to use a great marketing ploy - celebrities to promote their items. She wore the famous actresses and filming for advertising pages. Since then, many of the most successful actresses became the face of the brand in different years.
Currently, each model wants to be the face of Chanel - certainly as a sign of success and recognition, and that is important - multimillion-dollar contracts.
Coco Chanel introduced a tan in vogue. Tanned skin became fashionable precisely since the time Chanel. What is most interesting is that it was an accident. In 1923, Coco burned in the sun during the cruise, and the public immediately picked up "trend" when Coco appeared in this form in Cannes.
It is noteworthy that Coco Chanel lived in the hotel. The Ritz was her home. More than 30 years Chanel considered Ritz, which was one of the most luxurious hotels in Paris, their home.
The number "5" - was a favorite number of Coco Chanel. Perhaps she was superstitious, but much of her life is connected with this figure. A fragrance Chanel №5 knowingly got its name. It was the fifth version of smell, which like Chanel during creation.
By the way, Chanel №5 was unveiled on May 5 (May - the fifth month) in 1921. Accident? Coincidence?
Interesting fact, a bottle of Chanel №5, the world is sold every 30 seconds!
Coco Chanel never married. She had an infinite number of fans, almost all of its partners for men were, but she never married. Her contemporaries said that the art of costume for her has always been in the first place.
10 famous quotes Coco Chanel
Women who do not use perfume - it is very self-confident women, for loop properly selected spirits, which stretches for a great lady, always accompanied by images created by it, playing in the creation of this image is not the last, and sometimes even the first role.
I do not like long jackets - a conversation with a man I do not see how he treats me.
Fate is no reason no reason to reduce extraneous.
Your face in twenty years given to you by nature; how it will be fifty, depends on you.
The worse case of the girl, the better it should look like.
Every girl should always know two things: what and who she wants.
The most important act - think about yourself. Publicly.
A man capable of deeds, is doomed to be loved!
A woman worries about the future until he leaves zamuzh.Muzhchina no worries about the future until he gets married.
Hands - the card girls; Neck - her passport; Chest - passport.