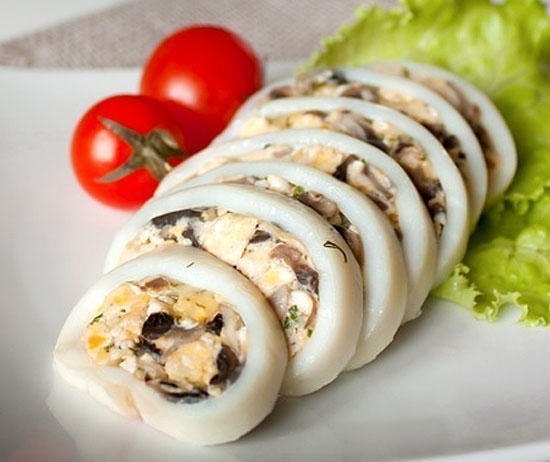 Preparation:
1. Mushrooms cut into slices, dill finely chop cheese grater three. In a frying pan over medium heat 2 tablespoons warm up vegetable oil. Put the mushrooms and fry, stirring, until softened, about 5 minutes.
2. Divide the eggs into the pan to the mushrooms, add salt and pepper. Fry, stirring eggs spatula until the mixture firmly, about 3 minutes. Add the chopped herbs and cheese, stir.
3. Farshiruem egg-mushroom mixture squid carcasses. Stabs zubochistkami.Smazyvaem squid vegetable oil, put in a form and send in a preheated 200 degree oven. Bake for about 20 minutes.
4. Serve hot or cool, cut into slices and serve as an appetizer.