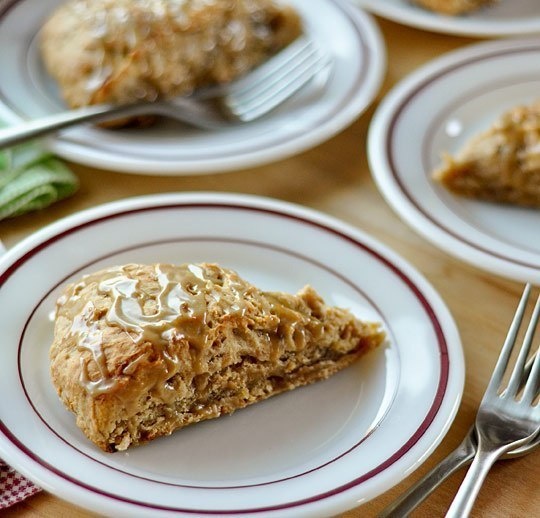 Preparation:
1. Bananas mash porridge-like mass and pour in the milk and yogurt. Stir.
2. The flour mixed with sugar, baking powder, salt and cinnamon.
3. Butter cut into cubes and rub it with a fork in flour mixture.
4. banana yoghurt mix pour into a bowl with the flour and butter.
5. Mix all until smooth. If you like, add the chopped nuts. Kneading the dough, send in the refrigerator for 30 minutes.
6. Heat the oven to 165 degrees. Put the dough in the baking tin.
7. Cut the dough into pieces. Bake for 25-30 minutes until the solid state and golden-brown color.
8. Let cool and then walk a knife to make an incision.
9. For the glaze, melt the butter with the milk in the microwave (30 seconds). Add the brown sugar and vanilla, sprinkle in sugar (if you need to cook in the microwave for another 30 seconds to the sugar is completely dissolved).
10. Put the icing sugar and mix everything carefully. The mixture should be thick.
11. Pour the chilled pastry glaze.