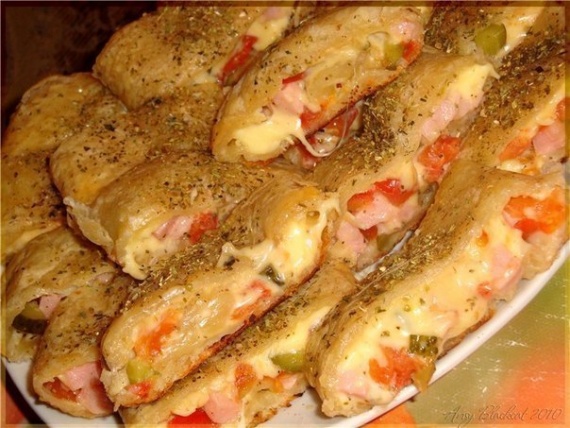 Preparation:
1. The dough is rolled and smeared mustard.
2. Cheese three, tomato, ham and cucumber cut into small cubes.
3. We spread the stuffing in the middle of the strip test: first cheese, then everything else and then cheese.
4. Sprinkle with pepper and very little grass.
5. We turn off roll and carefully passed on to a baking sheet.
6. Grease a raw egg rolls - to golden brown, sprinkle with herbs and abundantly - for flavor.
7. Bake until cooked.
Possible variations:
1. Ham can be replaced by any other meat products were at your fingertips: sausage of any kind, even sausages.
2. With a strong desire can even replace it with slices of roast meat, chicken, pork - what you will.
Tomato perfectly replaced pepper.
3. But you can fine them together in a Rolls. The main thing - to keep the recipe mustard and pickles - they create piquant charm of this roll.