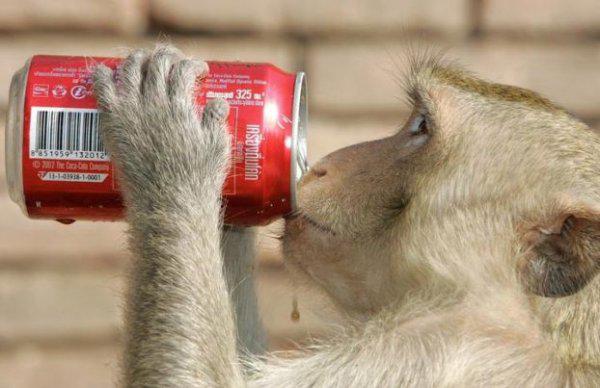 If all worked out, "Coca-Cola" to distribute bottled all inhabitants of the planet, each of us would have received for 767 bottles.
If all worked out more than a hundred years, "Coca-Cola" to bottle, put in a line and entwine her near-earth orbit of the planet, it will wrap the Earth 4334 times. By the way, a similar chain of the Moon reached out to there and back again in 1045.
If all worked out, "Coca-Cola" to fill the pool depth of 180 centimeters, it would be equal to the length of 33 kilometers and the width would reach almost 15 kilometers. In such a pool can simultaneously enter 512 million people.
Every second in the world drink 8000 glasses of drinks, developed by the Company.
A huge sign, "Coca-Cola", located on the pavilion "World of Coca-Cola" in Atlanta in 1407 consists of conventional light bulbs and 1906. "running" neon lamps. Character height - 9 meters, width - 8 meters, weight - 12, 5 tons.
The greatest sign of "Coca-Cola" is located in the Chilean city of Arica. It is set on a hilltop. The width of the mark - 122 meters, height - 40 meters. Compiled by the mark of 70 thousand bottles of the "Coca-Cola».
First appearance billboard "Coca-Cola", drawn back in 1904 and still is in place in the town of Cartersville (State George).
In 1989, "Coca-Cola" was the first foreign company to advertise its brand on Pushkin Square in Moscow.
The two countries where the highest percentage of consumption in the world, "Coca-Cola" per capita, have between them absolutely nothing to do: it is a huge continental subtropical Mexico and the tiny island circumpolar Iceland.
The longest route of delivery, "Coca-Cola" is located in Australia. Truck drivers have to travel 1803 km track to deliver production from Perth (South Australia) in settlements Karratha and Port Hedland.