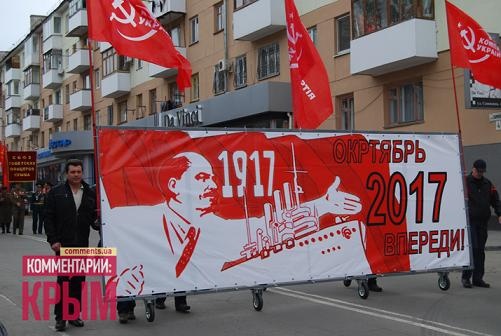 This gentlemen Crimean Communists otchebuchit. No, I certainly understand everyone has the right to make mistakes and so on. But the farther I go through life, the more convinced that the random accidents do not happen. So with this opechatochka. Well this fucking burnt, your most important holiday. From the standpoint of historical materialism. You are ready for it, I guess. Layout component. Claimed. Well, the writing of the text - is perhaps even loudly will - two words and two dates. So here wrought. In general, as 75 years had no idea where to go and why, so it is on the poster and figuratively poured out. Or are they all uporotyh came to the rally, as was brought up during the Soviet era? Elah, burns, go and see what you carry. Or - just do not care.
One word - the Communists. Funny.
I wonder if the same font below finished writing "The Communists are going to hell." Or somewhere else. With the same faces serious and would carry?