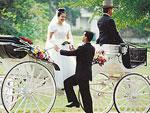 What promise the stars?
The most economical option - to hire a toastmaster-alone. For fun with you require from 3 to 15 thousand rubles. However, leading without clear recommendations can present different surprises. For example, to confuse the young, late for an event, a drink for the health of narrowing or did the day before the party to refuse to work. Say, elsewhere offered more, so do not blame me, please. Legally, they are clean as babies.
Sometimes, a magnet easy money attracted to the market of wedding services nuggets scribes. Their repertoire corona sounds to the tune of popular collections toasts and games. As a highlight of the program may well be magical studies at "young magician's box."
Evening under the tutelage of professional helluva lot hyped in the media master is estimated at 15-25 thousand rubles. In the agencies are trying to offer this responsible role of people with binding to the movie theaters.
If the size of the purse, you can call and superstar presenters. Celebrities from the big and small screens agree saddle private banquet for 5-30 thousand euros, depending on their level of publicity. Flawless leading Moscow newlyweds recognize Lolita. In addition, the Muscovites invited "Toastmasters" Ivan Urgant, Lazarus - Schatz, Oskar Kuchera, Yuri Askerov kaveenschikov.
Among the musicians among the most "wedding" got Dmitry Malikov, graduates of the "factory", "Bravo", "Gems", "Dr. Watson", "brilliant". However, all price lists for singers - only preliminary. Whims of some celebrities - something that can not be any forecasts.
Payback for gusarstvo
One of the most explosive items - cars. The worst part is not even traffic jams, and the situation in which the appointed hour at the door no car is not observed. Or instead of a large SUV young are fed "Volga". So that at the stage of selecting the car better protect themselves and not be lazy contract explore "crew".
On weekdays, limousine service is cheaper - 2, 5-6 thousand rubles, and from Friday to Sunday wedding car, depending on the "rock" will cost 3, 5-8 thousand rubles per hour rental. However, many firms set a time limit: just decided to go for a drive, then no less than 3 hours. Hour allotted for filing, also paid by the customer. In addition to limousines Muscovites readily attracted to the celebration "Chrysler", "Lincolns", "Hammer", sedans and retroavtomobili.
But most romantic couples buy their own right as in ancient times, drive up to the registry office in the carriage. Winter version of coaches - enclosed and heated - worth $ 800, and an open carriage - from 300.
By the way, this is the chosen transport to the wedding Lolita. And Diana Gurtskaya asked to decorate a milky color maroon carriage. The crew was accompanied by an escort of mounted Hussars, and solemnly marched ahead of the orchestra. Gusarstvo will take you at least $ 300 musicians service starts with a mark of $ 100.
Of course, hiring coaches and palaces for traditional walks around the city, but most prefer to change betrothed to the crew of 15-20 minutes prior to the registrar's office. For a spectacular and luxurious stay!
But there is much more extravagant wedding procession. One of the pairs together with numerous guests arrived for registration ... on bicycles. Dress code at all was appropriate - tracksuits. Well at least narrowing captured in a camera bag befitting the occasion attire.