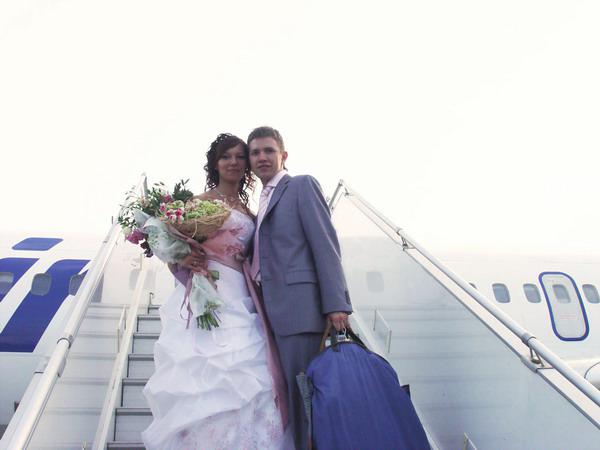 Today many couples refuse to lavish banquets with a variety of guests, preferring a memorable wedding in a narrow circle of the closest people
Time to weddings in full swing. According to ancient Ukrainian traditions, from August 28 (the end of the Dormition Fast) until November 28 (the beginning of Advent) every bachelor should fulfill their "duty" - to enter into a legal marriage. Our ancestors believed that the family created in this period, has a long and happy life.
Wedding - a special event that requires training and considerable financial investment. However, today many couples refuse to lavish celebrations in favor of a modest ceremony in the narrow circle of the closest people. The money saved many newlyweds transmit volunteers to assist the army and settlers from the east country and from the Crimea. Brides and grooms who do decide to make a real wedding, this year favored holiday on the road - in Ukraine or abroad.
Extensive engagement rings of red gold back in vogue h6> Preparing for a wedding begins with the statement in the RASS. For issuance of this document will have to pay 30 hryvnia. The fee for the registration of marriage is 85 cents, another 1, 7 hryvnia services cost the bank. Consultation on family and civil law will cost the pair 60-80 hryvnia. During a ceremony in the capital Rags have to pay from 150 to 610 hryvnia. The hall will sound a march by Mendelssohn, and after painting the young will hand laminated marriage certificate. For an additional 280 hryvnia newlyweds will offer live music, a table for buffet and champagne glasses. True, empty - sparkling and chocolates need to bring with them.

When the formalities are completed and appointed wedding day, the bride and groom into the hands of representatives of the firms that organize the celebration. In Kiev, a lot of these companies. Basically a set of services they provide standard: pre-wedding photos, video and photographs of the holiday, a bouquet for the bride, a hairdresser and makeup artist at home, rental and car decoration, loaf, toastmaster, DJ, vocal-instrumental ensemble, restaurant or banquet hall, decorated with inflatable balls. To this list for an additional amount each firm adds its own flavor. For example, the rent for the wedding of the small hall of the National Philharmonic or string quartet for 6000 hryvnia per hour. In addition, the pair can offer bubble show, concert parody (2300-2600 hryvnia for a two-hour presentation) or invite a pop star (15 to 50 thousand hryvnia for the execution of the five - seven songs). According to the organizers of the celebrations, blue, butterflies and fireworks today are nothing new, but these attributes are often bought holiday lovers, spreading from 3 thousand to 25 thousand hryvnia.

Cost of services Toastmaster and musicians this season virtually unchanged. On the leading wedding and music evenings, young people spend at least 10 thousand hryvnia.
To invite guests to the wedding cards are traditionally used. The bride and groom can buy as exclusive invitations (2000-2300 hryvnia per 100 pieces), and conventional printing (by 3-12 hryvnia per piece). Special chic - the services of a man who would write beautiful handwriting invitation. Such work would have to pay 300-500 dollars. Price depends on the amount of text and the number of cards.

Without engagement rings wedding does not happen. In Kiev imported rings in exclusive boutiques are from 47 thousand hryvnia per couple. Domestic jewelry cheaper - from 1200 hryvnia per ring classic design. Incidentally, the wedding rings are also susceptible to fashion. So, this season is especially popular Rough Cut. Jewelers processed products so as to preserve the appearance of newly mined metal. This implies an asymmetry cut and even some imperfection lines. A pair of gold rings will cost 12 thousand hryvnia. Also in vogue Jewelry Jewelry, gold of yellow and white gold. Many brides and grooms have begun to pay attention to unusual metals such as palladium, Damascus steel and titanium (sometimes in conjunction with a tree). Such rings are called alternative and costs in the amount of 14 thousand hryvnia. In the fashion back wide ring of red gold, are worn by our mothers and grandmothers. Indeed, everything is new - is well forgotten old and modern bride often choose massive ring on the whole phalanx of fingers. Wedding rings can be decorated with engraving (500-700 hryvnia).

Gala dinner in a modest but respectable institution is calculated as "450 hryvnia multiplied by the number of guests»
Certain items of expenditure - wedding outfits. On her wedding dress women prefer not to save. You can buy, make or rent. The last option is the most popular today. The first hire of imported dresses will cost 200-500 euros for three days (these rates remain stable for two years). Wearing clothes are cheaper - 70-190 Euros. By the way, to buy or sewing dresses will take about 200-500 euros. As for other accessories, they decided to purchase and keep as a memento. Fata stands 350-1200 hryvnia, gloves - about 280 hryvnia, shoes - 800-4500 hryvnia, artificial bouquet - not less than 60 hryvnia.
Groom to wear to a wedding, will have to spend at least 2600 hryvnia. Male costume is worth 1800-27000 hryvnia, shoes - 400-5600 hryvnia, shirt - 320-2500 hryvnia. If the bride wishes to dress in Thrace, he will need to apply to the tailor, as our stores Fracy somehow do not trade. Moreover, the man should buy the bride flowers, and this is 160-900 hryvnia.
Now about transport. Cars for wedding entourage often rent. The average rent of a car costing 260-600 hryvnia per hour. In the capital, you can easily hire not only limousines, "Seagull", winter, Abstracts of, and horse-drawn carriages (about 150 hryvnia per hour). By the way, for car decoration with flowers and rings paid separately: 300-450 hryvnia - rings, 80-200 hryvnia - ribbons and artificial flowers, 650-1700 hryvnia - Arrangement of flowers.
Today rarely complete without wedding wedding. On carrying out this sacrament also need to agree in advance. Young people come to the temple to women selling candles and icons, and ask her to help them organize the wedding. Servants opens the book of records, called the free days, reports, and how much to pay the lists required for the sacrament of things. Initially, for the wedding did not take the money, people donated the church in its capabilities. Today in the capital's temples bride and groom offered a price list of the services: the rite itself - 300-750 hryvnia, chimes - 250-500 hryvnia, wedding candles - 40-250 hryvnia per couple icons - 260-2800 hryvnia per couple. In addition, the temple need to bring a bottle of Cahors wine (80-160 hryvnia), a cake or a loaf (about 300 hryvnia), four towel (at 70-200 hryvnia each) and a handkerchief, which bind the hands of the young priest. In short, the wedding should be postponed for at least a thousand hryvnia.
The lion's share of the wedding expenses - banquet. The most economical option - dinner at home, but it is troublesome for the relatives. Therefore, most couples take off for a holiday cafe or banquet hall. The cost of the banquet in a modest but respectable institution is calculated as "450 hryvnia multiplied by the number of guests." If the bride and groom want something more fashionable, the sum is doubled. And the drinks are charged separately.
The Metropolitan Museum of Folk Architecture and Life newlyweds are ready to forge a horseshoe for luck
In short, a classic celebration costing a large sum, so many young people prefer to make a small but unusual wedding on the road. For example, a five-day themed tour to Greece will cost 1450 euros for two. The price includes airfare, individual transfers, accommodation in a four star hotel and the actual ceremony on the beach. And in Hungary is very popular wedding on a boat in the middle of Lake Balaton. Bride and groom exchange rings on the waters of beautiful Lake of Europe, and spend their wedding night in a comfortable cabin steamer called "Happiness". This trip will cost 2000 euros.
In Jamaica, for $ 4,500 (plus $ 1,700 for travel) lovers can re-sign. The ceremony will be held in the gazebo on the ocean, then the couple will go to sea cruise or stay in the hotel suite, where they will spend five days.




Very romantic ceremony offered in Sri Lanka. There with candlelight and drumming hands of bride and groom join threads. Then they ride on elephants and settled in a comfortable bungalow. Wedding and ten days in Sri Lanka will cost 4500-5300 dollars. More metropolitan travel agencies offer a romantic trip to Turkey, Egypt, the Czech Republic and the United Arab Emirates.
By the way, in order to have the wedding poekzotichnee, not necessarily to go abroad. The original celebration can be arranged in the Ukraine, for example, in the Kiev Pyrohiv - so popularly called the National Museum of Folk Architecture and Life. Here you can ride horses, sing songs, dance, revel in the present Ukrainian tavern and blacksmith forge a horseshoe for good luck.
Beautiful wedding on balloons arranged in Kamenetz-Podolsk. Under march by Mendelssohn bride and groom are raised above the ground, in the air painted in the documents delivered from Rags and fall to the ground already husband and wife. The two-hour flight and marriage registration on the balloon will cost 13 thousand hryvnia.

Unusual wedding can play in Odessa. Paying 17-24 thousand hryvnia, the bride and groom affixed their signatures to a marriage certificate on board the yacht, and after the ceremony, the team organizes for young romantic dinner with live music and champagne.
Original and popular celebrations in the western regions of Ukraine. For example, the bride and groom can take a complex "Vojvodina", near Uzhgorod. There is everything that was done on this Slavic wedding. If you wish to arrange a loving Ukrainian wedding in the European manner, it is best to go to the city. Narrow streets, houses the Polish kings and smell the coffee cozy coffee houses create a sense of the other, a beautiful and romantic, reality. Young can enjoy a carriage with four horses and a pair of walks of RAPA on holiday venue. This wedding in Lviv will cost 12-24 thousand hryvnia.
Ran his eye all of the above numbers and services, understand: money for the organization of the celebration will take a lot. But the main thing for marital happiness to the two love each other and cherished.

fakty.ua/187508-ceremoniya-brakosochetaniya-vo-vremya-poleta-na-vozdushnom-share-ili-progulki-na-yahte-mozhet-stoit-13-17-tysyach-griven