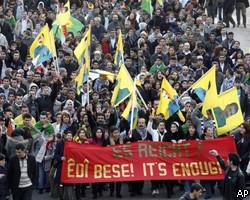 Turkish and Kurdish immigrants in Germany held a rally, thus expressing dissatisfaction with the situation on the Iraqi-Turkish border. This news agency Associated Press.
All the demonstrations that took place in Munich, Dortmund, Berlin, Nuremberg, Cologne and other German cities were peaceful. They were attended by more than 10 thousand. Man.
On the same day in the neighboring Austria, Turks and Kurds preferred to clarify the relationship between them. As a result, street clashes 5 people were injured. Two of them are in serious condition. Just the riots in Vienna was attended by about 8o people.
The situation on the Iraqi-Turkish border at the moment is one of the world's major problems. November 5 Washington planned talks between Turkey and the United States concerning the plans of Ankara for a full-scale military operation against Kurdish separatists in Iraq.
Earlier, militants of the Kurdistan Workers Party (PKK) released eight Turkish army troops captured in Turkey and handed them over to the local authorities of the Kurdish autonomy in Iraq. This step may be a goodwill gesture on the eve of the US-Turkish meetings.
Recently, US Secretary of State Condoleezza Rice announced that the United States, Turkey and Iraq will work together to fight against Kurdish rebels attacking Turkey from bases in northern Iraq. However, the Iraqi government announced that to prevent such attacks can neither Baghdad nor Ankara. Its previous US attempts to persuade the Kurds to stop raids into Turkey were unsuccessful.
It should be noted that the situation is complicated by the fact that Iraq is in negotiations with Turkey is behaving a little strangely. Initially, President Jalal Talabani urges Kurds to lay down arms, but after a while the speaker of the Iraqi parliament threatens to block the flow of oil to Turkey.
A source