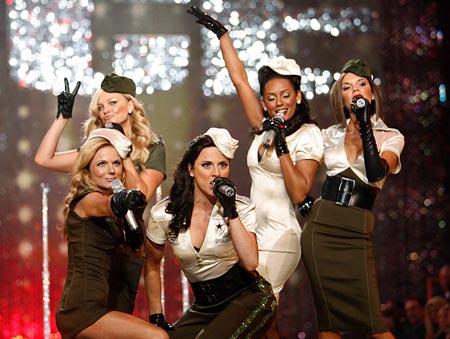 Group Spice Girls gave their first live performance after the reunion this summer at the annual fashion show Victoria Secret company in Los Angeles. The British team played in the Hollywood Kodak theater two songs - new single Headlines and composition 1998 Stop, FaktNews reports citing BBC.
Geri Halliwell said that their appearance at the event was "a good warm-up" before the world tour kicks off in December in Canada. Behind the scenes, the singer promised in an interview with GMTV, that the concerts will be "full of drama."
Emma Bunton added that during the concert the group intends to fulfill many of the old hits. The audience welcomed Bunton, Halliwell, Victoria Beckham, Melanie Chisholm and Melanie Brown, appeared on stage in costumes, stylized uniforms from World War II soldiers and forage caps.
Also Spice Girls, the concert main producer of lingerie in the world are the members of group Black Eyed Peas William (Will.i.am), working in concert instead of rap star Kanye West, who refused to attend the event due to the death of his mother. November 16 The Spice Girls have to perform in Los Angeles at a charity evening channel BBC One - Children in Need.
Note revived Spice Girls have decided to expand the geography of the tour due to the huge number of fans of the group who wish to attend concerts. Additional performances of the group will be in Vancouver, San Jose, California and Shanghai. From the very beginning assumed that band's concerts will be held in Los Angeles (December 7), Las Vegas (December 8), New York (December 11) in London (15 December), Cologne (December 20) Madrid (23 December), Beijing (January 10), Hong Kong (January 12) in Sydney (January 17), Cape Town (January 20), in Buenos Aires (24 of January).
Tickets for the Spice Girls concert in London sold out in just 38 seconds. Sales began online and on the phone, and immediately followed by a huge surge in activity, as fans began to bombard literally all possible channels of communication.
Initially, it was announced that as part of its global "reintegrate Tour" group will give in London one concert - December 15 on the new platform O2 Arena (also known as the Millennium Dome), but then the program has been added three more London performances - 16 and 18 December and 2 January.
Women's group Spice Girls became the most popular British musical group of the 1990s. Their albums have dispersed a total circulation of about 55 million copies, nine singles group ascended to the top of the British charts. Group of four became the owner of the most prestigious music awards of Great Britain - Brit Awards. In 1998, formed in 1994, the team went Gerry Halliwell, and two years later Spice Girls disbanded.
A source