July 7 in Los Angeles at the Staples Center held a public ceremony of farewell to Michael Jackson. In the farewell ceremony was attended by 18 thousand. Fans. Hundreds of thousands of people around the world watched the scene on the big screens, hung on main streets.
In addition, the ceremony was attended by the legendary musician Stevie Wonder, actress Brooke Shields, singer Mariah Carey and Queen Latifah, children known fighter for the rights of African Americans Martin Luther King and many other celebrities.
Gathered at the funeral ceremony the audience argued that along with Jackson out of the generation, and it is unknown whether there will be again a similar magnitude in music.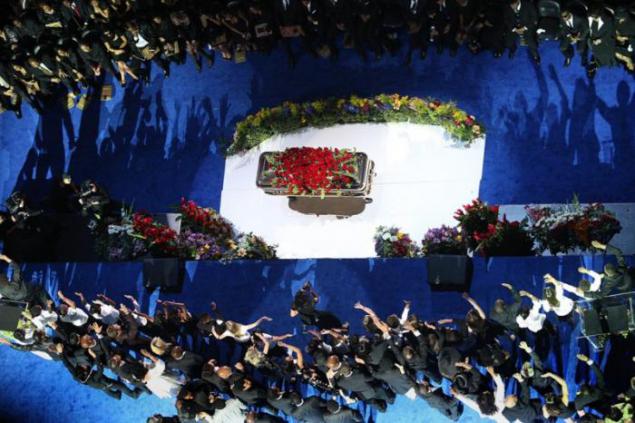 Family and friends of Michael Jackson singing his song «We are the World» during the memorial service in the «Staples Center» in Los Angeles, California, on Tuesday, 7 of July. (Los Angeles Times / Wally Skalij)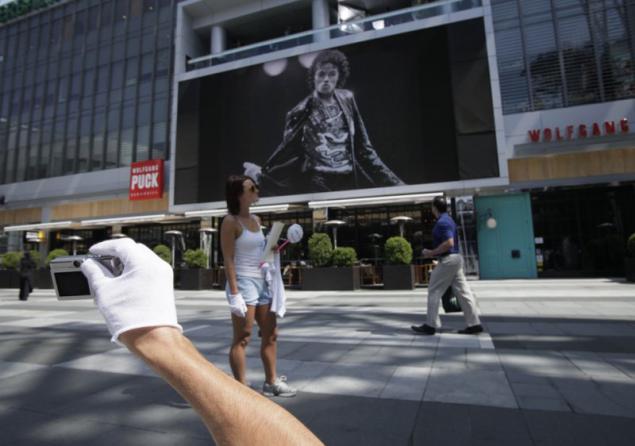 A fan in the legendary white glove holding a photograph of Michael Jackson at the Staples Center on Tuesday, July 7 in Los Angeles. (AP / Jae C. Hong)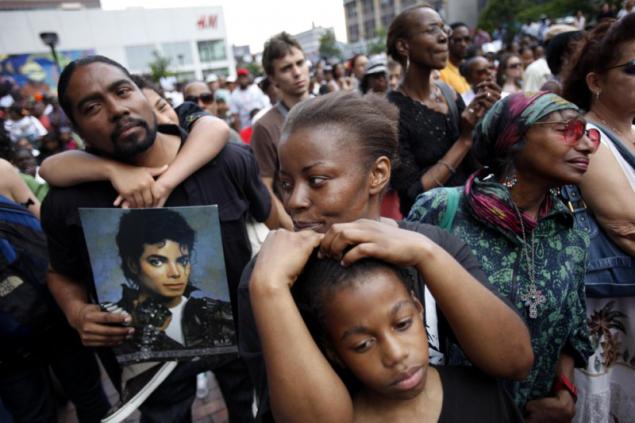 Ashley Kim, center, with his son Kore Ashley on the street while watching the memorial service for Michael Jackson in Harlem on Tuesday 7th of July. (AP / Seth Wenig)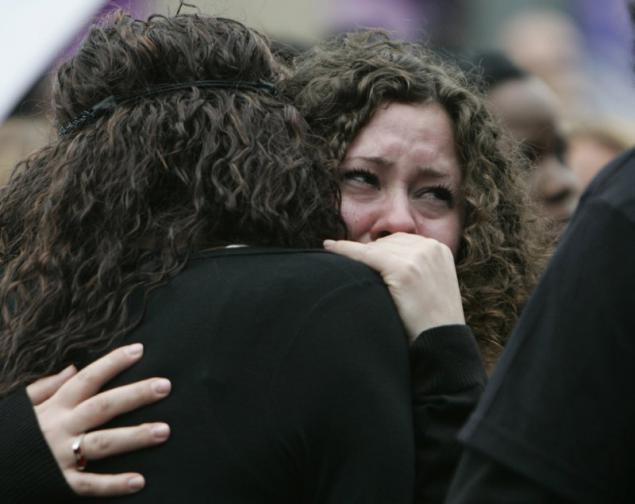 Fans of Michael Jackson watching live farewell ceremony on the TV screen at the O2 Arena in south-east London, on Tuesday, July 7 where he planned to play 50 concerts starting in July 2009. (AP / Lefteris Pitarakis)
Candice Hurd-Beltran, left and front, Nicole Calhoun, center, and Jasmine Mejilla, comparison, Los Angeles, watching a live ceremony of farewell to Michael Jackson in the first African Methodist Episcopal Church in Los Angeles. (AP / Carolyn Kaster)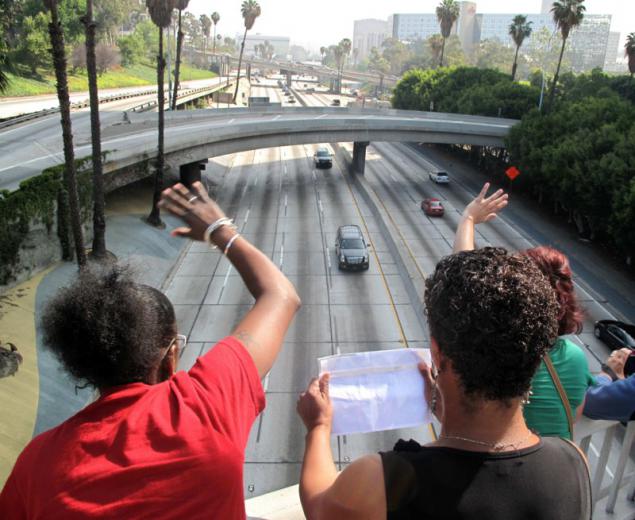 43-year-old Leslie Young, left, and 50-year-old Maria Kveyts stand on a pedestrian bridge over the 5th street, while the bottom of the funeral procession passes Michael Jackson on an empty freeway 110 in Los Angeles on Tuesday, July 7. Women came out of his office to take a look at how the cars are sent to the Staples Center for Michael Jackson's memorial service. (AP / Stephanie Mullen)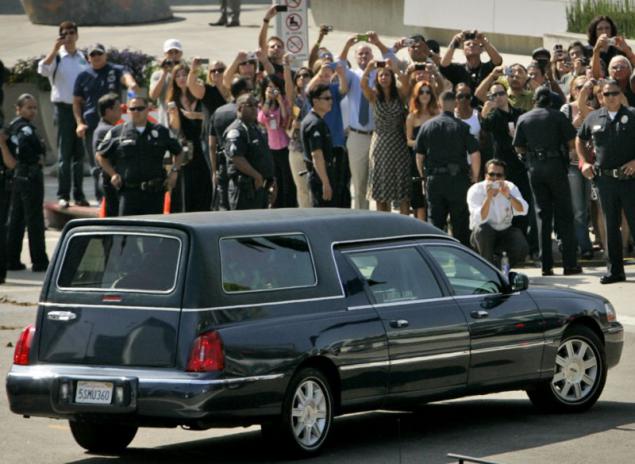 Hearse with the body of Michael Jackson arrives at the Staples Center for a memorial service on Tuesday, July 7 in Los Angeles. (AP / Marcio Sanchez)
At the scene, the singing gospel choir, carry the coffin with the body of Michael Jackson. (AP / Kevork Djansezian)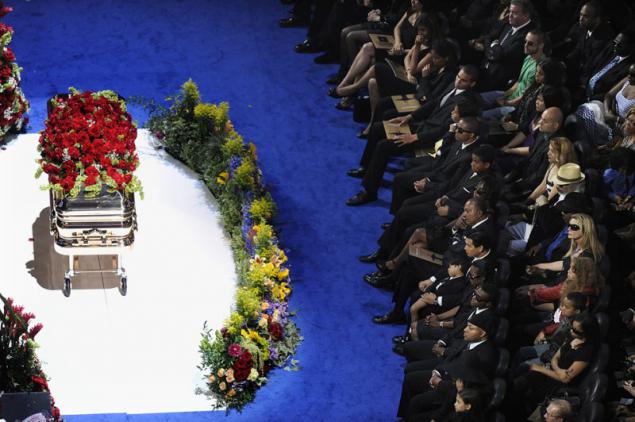 The coffin of the singer stands on a special white dais, where are wreaths of mourners. (AP / Wally Skalij)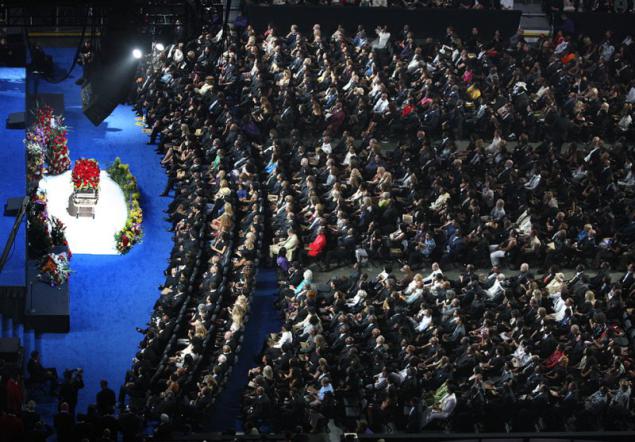 The coffin of the singer stands on a special white dais, where are wreaths of mourners. (AP / Wally Skalij)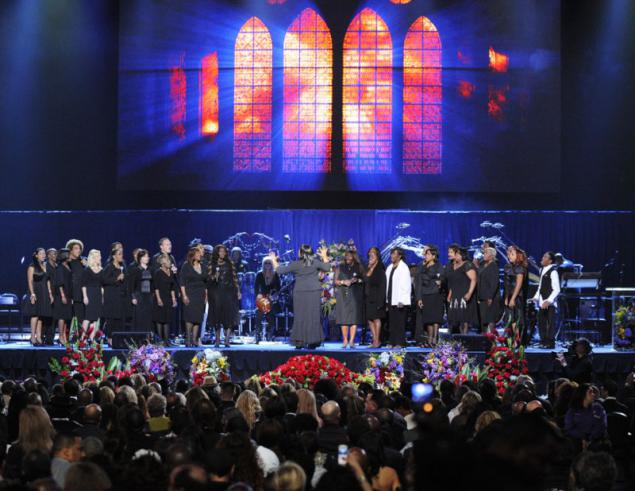 Andrae Crouch Singers Choir opens a memorial service at Staples Center. (AP / Mark J. Terrill)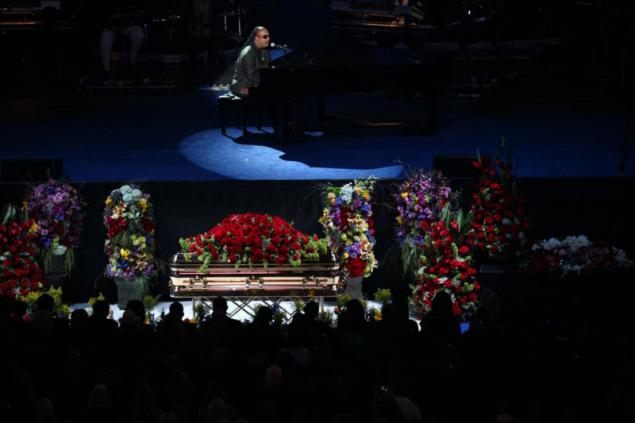 Speech by Stevie Wonder during the memorial service of Michael Jackson at the Staples Center in Los Angeles on Tuesday, July 7. (AP / Monica Almeida)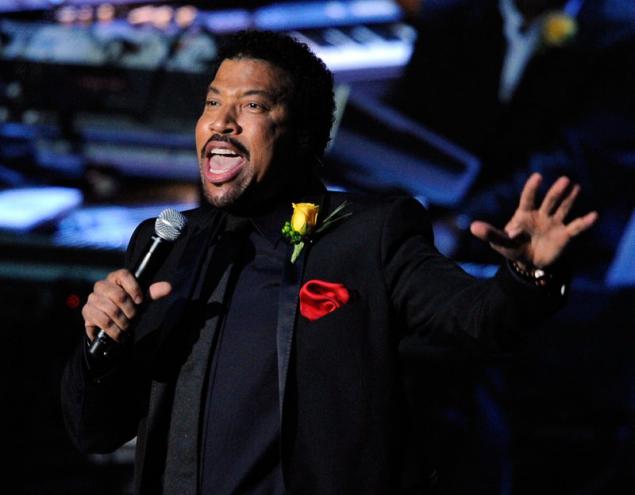 Performance of the singer Lionel Richie during a memorial service at the Staples Center on Tuesday, July 7 in Los Angeles. (AP / Kevork Djansezian)
Speech Usher during a memorial service at the Staples Center on Tuesday, July 7 in Los Angeles. (AP / Mark J. Terrill)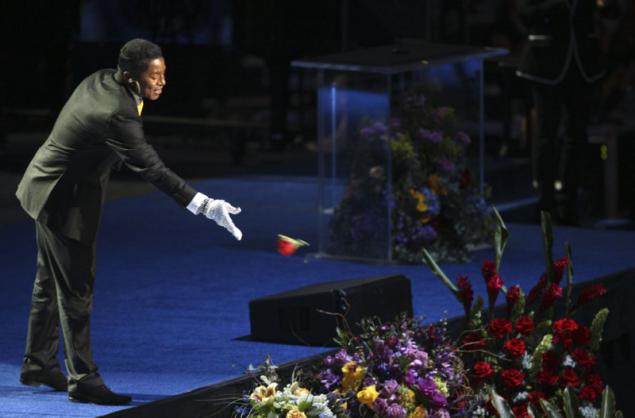 Michael's brother, Jermaine Jackson throws a rose from his buttonhole during a speech at the memorial service. (AP / Mario Anzuoni)
Singer Janet Jackson, left, Paris Katherine Jackson, Prince Michael Jackson II, and LaToya Jackson on stage during the memorial service of Michael Jackson at the Staples Center in Los Angeles on Tuesday, July 7. (AP / Mark J. Terrill)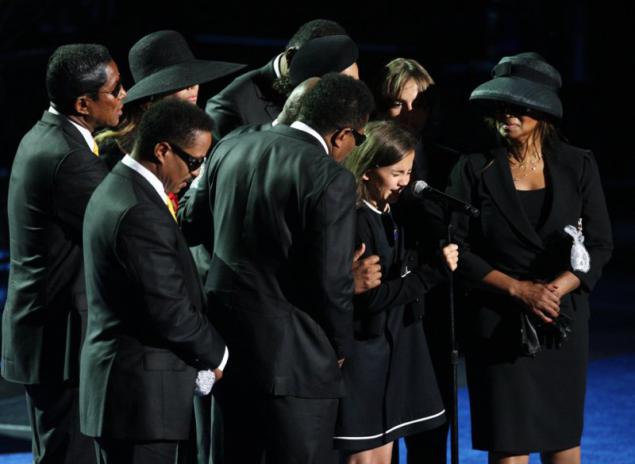 Michael Jackson's daughter Paris Michael Katherine, surrounded by family members, speaking at the memorial service of his father at the Staples Center on Tuesday, July 7 in Los Angeles. (AP / Mario Anzuoni)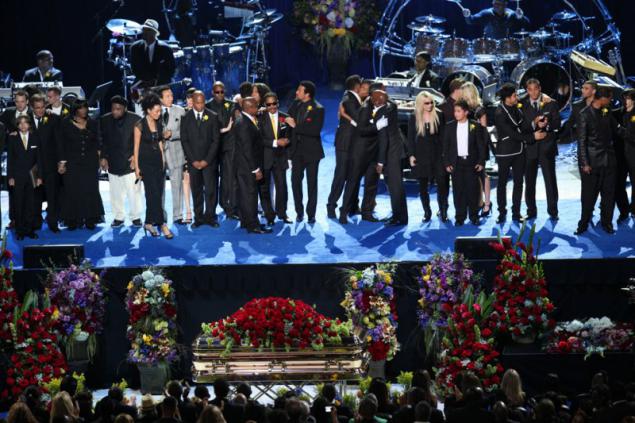 Family members and friends hug at the end of the memorial service at Staples Center. (AP / Monica Almeida)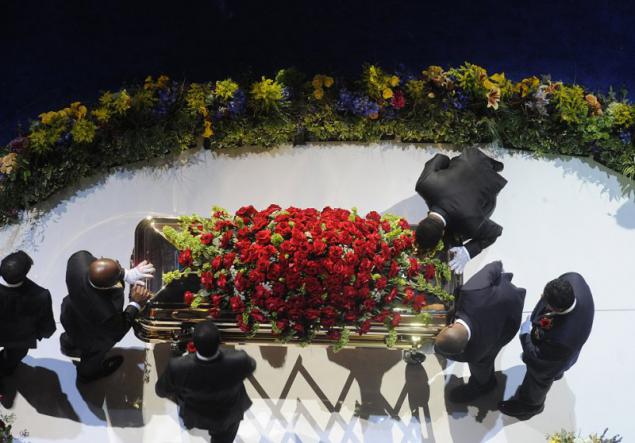 Porters are preparing to carry the coffin of Jackson. (Getty Images / Wally Skalij)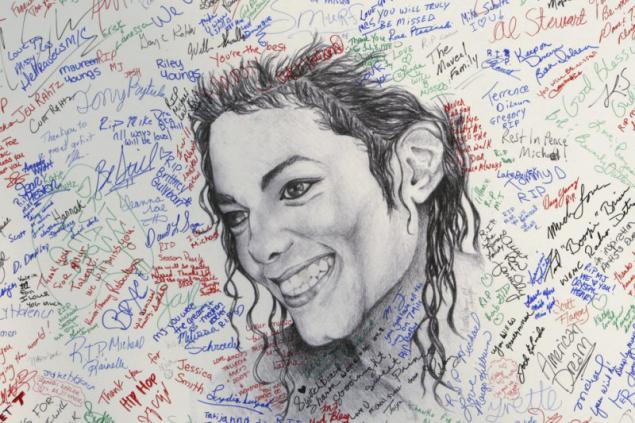 Poster signed by the fans of the Museum of African American History in Detroit. (AP / Carlos Osorio)