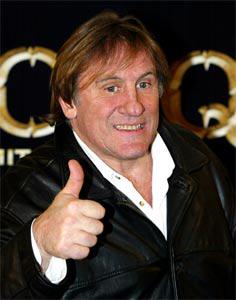 Gerard Depardieu was fined 800 euros for beating the Italian paparazzi. Recently, Florence Court convicted the French actor for attacking a press photographer Dario Orlandi October 3, 2005.
As he told the paparazzi on the court, he shot Depardieu, walking to the shops of southern Italy with a young woman. "He beckoned to me with his hand, beckoned closer, and when I came up, then without warning, hit my head on the nose. I could not work for 4 days ", - he told reporters. Press, highlights the process already compared the attack Depardieu blow away the captain of the French football team Zinedine Zidane: he butted in the chest of the opposing defense, the Italian Marco Materazzi in the final of the World Cup in 2006.
The actor was not at the hearing. But the judge has sentenced in absentia, Depardieu obliged to pay a fine for "threats and violence against the photographer." The reporter started another process: his claim for moral damages in the sum of 1,500 euros will soon consider other court.
The famous actor previously demonstrated violent temper. Thus, in the same 2005 Depardieu scandal on French television, calling the journalist "idiot" because he criticized his cookbook ...
* Newspaper * py