The tragedy occurred on Victory Day, May 9,
on children's attraction "Centrifuge»:
2 people were killed and eight wounded.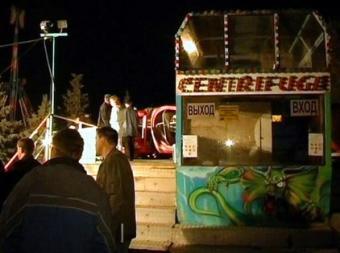 Breakdown of children's attractions "centrifuge" led to the deaths of two residents of the city of Lugansk. Another eight people were injured.
According to the Ministry of Emergency Situations of Lugansk region, the tragedy occurred on Victory Day, May 9, at about 22:30 Moscow time. "As a result of breakage of children's attractions - the carousel type" centrifuge "- killed a man, born in 1985, and a girl, born in 1991. Eight people were injured. Among the victims - a child born in 1997 "- a statement of the regional emergency department. One of the injured - a woman, born in 1978 - is still in serious condition.
This evening attraction "Centrifuge" was popular. Thrill seekers lined up in long queues to get on the swing.
Suddenly, lost control of the carousel and tipped at full speed caught on the iron platform on which people went into the "centrifuge".
"I saw with my own eyes how two people fell out with booths swing. This is such a horror. They shouted. I just stood in the queue. I was in the hands of a ticket for this carousel "- says an eyewitness of the tragedy luganchanka Irina.
"I also saw how they flew with swing and fell. I was seized by a wild terror. I just went to the cashier to buy a child ticket. God has saved us, "- says Olesya luganchanka.
"Carousel rose sharply up, then froze and fell people. When the body is already taken, then there were rumors that were cut hoses that run by a carousel, "- says an eyewitness of the tragedy Stanislav.
As described in the Ministry of Emergency Situations, in front of a crowd of 17-year-old Yanina Timchenko and 23-year-old Alexander Korneev both died at the scene from his injuries. 8 more victims with injuries and fractures were taken to hospital. Among them - the 10-year-old girl Elena Savchuk, received head injuries and concussion.
Of the victims, 30-year-old Natalia Smaglova is in intensive care in serious sostoyanii- she closed head injury, open fracture of the forearm and leg injuries. Her husband Smagliy Constantine also in the hospital.
Attraction "Centrifuge" belongs to a private entrepreneur who represents the interests of the company "Kiev-cruise." April 30 carousel started working after the permit issued by the local Gosgorpromnadzora in Lugansk region.
As reported by the "Today" press secretary terotdeleniya Gosgorpromnadzora in Lugansk region, Olga Negrebetskaya that rides "Luna Park", where the tragedy occurred, passed expert examination (technical diagnostics) in Kremenchug research and production center "Attraction". "It was all right. It is an object of increased danger, "- said Negrebetskaya.
This is not the first case of death of people in the amusement park. A month ago - on April 8 in Kharkov student from Lviv has fallen from the carousel in Gorky Park. Doctors fought for two days of her life - she underwent three operations, but to save her failed.