In the administrative center of the Chinese
Sichuan - Chengdu - Tuesday,
May 13 began again strong tremors.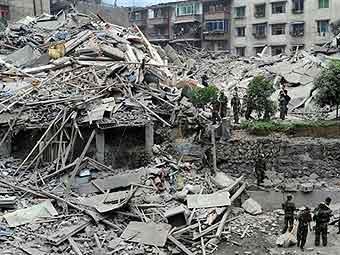 Aftershocks started around 15:10 local time (11:10 Moscow time), their magnitude, according to various sources, amounted to 5, 9 to 6, 1. According to witnesses, it was the strongest aftershocks since last Monday's earthquake victims which we are already more than 10 thousand people.
Meanwhile, China's Ministry of Finance announced the allocation of 860 million yuan (about 122 million dollars) in aid to areas affected by an earthquake. In addition, the Foreign Ministry spokesman said that China is ready to start consultations with various countries and organizations on humanitarian assistance.
In turn, the representative of the information department of the Emergency Situations Ministry told the news agency that Russia is ready to send to China transport aircraft IL-76 with rescue teams, mobile hospitals, and humanitarian aid. According to him, the aircraft ready to fly, which requires a formal request from the Chinese side.
The Chinese authorities sent to the quake-hit areas more than 50 thousand soldiers, however, due to the fact that when an earthquake destroyed roads to the epicenter yet been able to reach only about 1,300 soldiers and medics.
An earthquake of magnitude 7, 8 occurred in southwest China on Monday around 14:30 local time (10:30 Moscow time). At the epicenter of the disaster it was destroyed 80 percent of the buildings, a lot of people still under the rubble. According to Xinhua News Agency, it is still unknown fate of 60 thousand inhabitants of the province of Sichuan.