Bilan using Hungarian violinist Edvin Marton
and Olympic champion in figure skating
Evgeni Plushenko performed the song «Believe»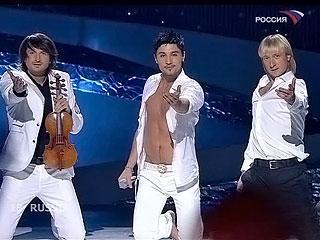 According to music experts, "Russian musketeers" have a good chance to become winners. From a technical point of view of their composition was impeccable and, no doubt, the most difficult of the 19 that were presented Tuesday at the podium of the complex Belgrade Arena.
Apparently, the more comfortable the other participants in the Russian trio felt Marton: modest size "tablet" of artificial ice, Plushenko was not allowed to demonstrate all his remarkable abilities, and what felt, standing barefoot on the ice, Dima, only he knows. However, numerous training sessions were to harden the singer.
The remaining 9 th finalists were: Kalomira (Greece), the duo Nico and Vlad (Romania), Laka (Bosnia and Herzegovina), the rock band "Terasbetoni" (Finland), Boaz (Israel), Sirusho (Armenia), the duo Elnur and Samir (Azerbaijan), Isis Gee (Poland), Maria (Norway).
From what showed participants of the first semi-final, we can conclude that the main competition Bilan can make Greek and Armenian singer, great debut at "Eurovision" Azerbaijani duet and - in contrast to "concrete" Finns (so translates the name of the group "Terasbetoni") . However, we have not seen the participants of the second semi-final, and it will perform very strong contenders: Swedish Charlotte Perrelli, Ukrainian Ani Lorak, Belarusian Ruslan Alehno.
Do not forget about the four artists representing countries-founders of the contest (UK, France, Spain, Germany), as well as "who joined them" as the hostess of the festival Serbia. Under the new rules of "Eurovision", they do not participate in the qualifying rounds, and will act only in the final. Without a doubt, the strongest of them - Serbian Jelena Tomasevic.
According to ITAR-TASS, the second semi-final of the contest will be held on May 22 and the final - on Saturday, May 24. It will perform a total of 25 performers.
"Eurovision" - one of the most popular television shows in the world. It has been held annually since 1956. This year the competition for the first time host to Serbia, earning it right last year's victory in Finland Serbian singer Marija Serifovic.
"Eurovision" 2008 will be the most representative in the history of the competition. It is attended by artists from 43 countries who act in the largest auditorium in the Balkans - Belgrade arena that can accommodate 20 000 spectators.
The semi-final of "Eurovision" -2008 was broadcast live on TV channel "Russia".