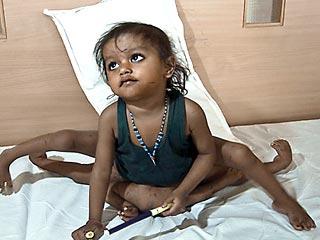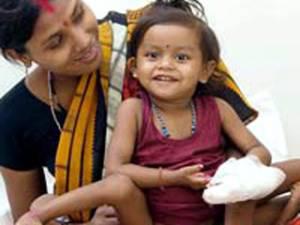 Born with eight limbs Indian girl Lakshmi, who underwent surgery to separate the so-called "parasitic" Siamese twin, on Tuesday moved to a regular room, told a press conference in Bangalore, chief surgeon of the hospital, "sparse" Sharan Patil.
"Lakshmi disconnected from the respirator, it takes solid food and is recovering quickly. Today, it will disconnect from the equipment and be transferred to the general ward, "- said, who led the 27-hour operation with the participation of teams from nearly 30 doctors.
At a press conference a girl for the first time shown to the public after the operation. Lakshmi, who introduced the hands of father into the room, would have looked quite healthy, if not numerous bandages.
"She is still very weak, and the wounds are very deep. Therefore it needs proper care and constant supervision, even though now it is not in danger, "- said the doctor.
The operation ended a week ago. The doctors managed to divide the circulatory system Lakshmi and her twin, spine and carry a healthy kidney into a healthy twin baby's body.
"Doctors are constantly watching her condition after the operation, even the parents were allowed to visit her three times, because at this stage it is very vulnerable to infection," - said Patil.
After a few weeks, when the wound healed, Lakshmi will learn to walk.
Girl, which parents named Lakshmi after the four-armed goddess, was born two years ago in the tiny village of argali in the northern state of Bihar. The so-called "parasitic twin" that stopped developing in the womb, is completely dependent on the circulatory system, and the girls did not have a head.
Doctors from Bangalore clinic "sparse" agreed to this expensive operation for free. Otherwise, according to doctors, Lakshmi has not lived up to adulthood.