French film wins
Festival in Cannes for the first time since 1987.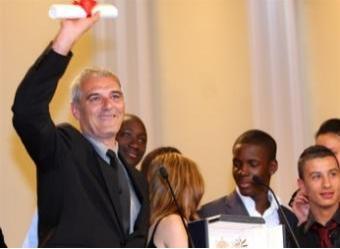 "Palme d'Or" of the 61st Cannes Film Festival got the movie Laurent Kante "Between the walls» (Entre les murs), reports Lenta.ru. The decision was announced by the Chairman of the Jury Sean Penn during the closing ceremony of the festival on Sunday evening. "This is a delightful film - said an American actor and film director. - The jury's decision was unanimous. "
The film "Between the Walls" tells about the daily life of a young French teacher at the college for disadvantaged children. The film was made based on the autobiographical novel by Francois Bigode. "We wanted to make a film about modern French society: diverse, complex and full of life", - said Kant, taking the top prize from the hands of Robert De Niro.
French film won the festival in Cannes for the first time since 1987.
Prize for the best actor Benicio del Toro has received for the role of Ernesto Che Guevara in Steven Soderbergh's "Che» (Che) of the famous Latin American revolutionary. Best Actress Sandra recognized Brazilian Korveloni for a starring role in Walter Seylsa and Daniela Thomas' lines of transition »(Linha de Passe). Prize for the best director got Turkish Nuri Bilge Ceylan for his film "Three Monkeys". The award for best screenplay got brothers Luc and Jean-Pierre Dardenne for "Lorna's Silence» (Le Silence de Lorna).
Award for Service to the cinema got Catherine Deneuve and Clint Eastwood, speaking in the role of director and presented at the festival his new film "Changeling» (The Exchange) with Angelina Jolie in the title role.
The festival jury also noted the film "Gomorra" Italian Matteo Garrone, shot for the second book, and tells about the Calabrian Mafia.
Rossiyanka Valeria Gai Germanicus won the Special Jury Prize "Golden cameras" for full-length debut, "Everybody Dies But Me."