The exhibition Motorexpo, held this month in London's business district of Canary Wharf, the presentation of the new British roadster built on the platform Kappa from GM, which is the basis also for vehicles such as the Opel GT, Saturn Sky and Pontiac Solstice. The novelty is called the Breckland Beira and, unlike its counterparts, is equipped with 6 0 L V-shaped 8-cylinder engine with 400 hp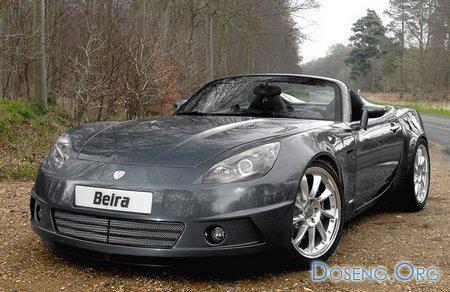 Vehicle weighing about 1 400 kg, has an excellent power to weight ratio that ensures high performance Beira, providing acceleration from 0 to 100 km / h in less than 5 sec., And all of this combined with the outstanding performance of torque. Its top speed is 250 km / h.
Beira is designed so that the fuel can be used as a mixture gas and gasoline. This not only helps to reduce fuel costs and to provide environmentally friendly, but also guarantees to 1 127 kilometers without refueling. Fully independent suspension has been designed by Breckland in collaboration with KW Suspension, an improved spring shock absorbers and bushings and thicker front and rear stabilizer bars.
Power brake guaranteed 325 mm ventilated discs at the perimeter of the front is paired with a six-cylinder calipers and rear - with four.
Roadster Beira will be released in versions with right and left-hand drive and will go on sale in Europe in November for $ 108 000.