Alfa Romeo presented at the Geneva Motor Show the production version of the Roadster exclusive Alfa 8C Spider - excellent!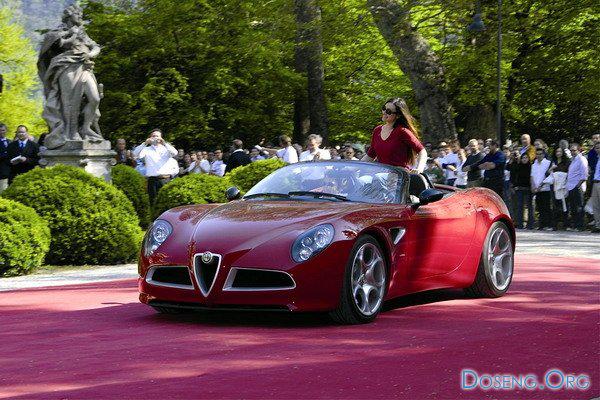 So - be a series. The great advantage of this solution directly in the fate played a roadster model Alfa 8C Competizione with its grand European success, where almost all the limited edition of 500 copies was successfully sold out. As for the fate of the roadster, it is clear and free customers already take place in the queue, which also has everything - 500.
The new Alfa 8C Spider - it's almost the same thing but without the coupe roof. Body - based on carbon fiber and carbon fiber, and the brakes - karbonokeramika with 380 mm discs at the front axle and 360 mm at the rear. Roof - special tarp that with the key in a special box disappears almost 15 seconds.
Under the hood, new everything works the same unit as the coupe version - 450-hp 5, 0-liter V8, with a maximum torque of 480 Nm. Power transmission is via a six-speed gearbox, where switching is also possible using the "petals" on the wheel and on the security cares more special sports block differential. In contact with the track entering the 20-inch wheels with tires of the dimension 245/35 and 285/35.
Price of new roadster Alfa 8C Spider by unknown.