We offer you to join us to look through the Guinness Book of Records, and learn many interesting things about the wedding records.
1. The largest bridal bouquet bride reaches a length of 60 meters and was made of 1,500 flowers. This unusual wedding took place on 6 September 2003 in the city of Mississauga, Ontario, Canada.
Bridal bouquet weighed 92 kg, and it can be found 500 roses, carnations 400, 60 roses, daisies 200 and 340 gypsophila. In addition to flowers, yucca stalks were present, branches of cedar and vine leaves. Naturally, such a bouquet of the bride could not bear alone, helped her 79 bridesmaids and groomsmen 47.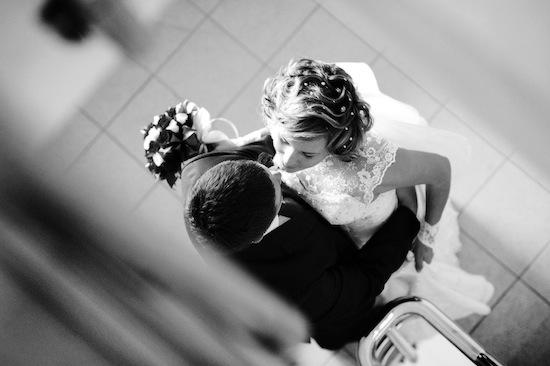 2. The title of a huge wedding cake got the cake, which weighed 6 to 8 tons and was made by chefs hotel in Ankasvill, Connecticut, USA. This cake was ordered for the wedding banquet Feb. 8, 2004.
The cake was a vanilla flavor and was decorated with ribbons and hearts. For its preparation required: 4,540 pounds of biscuits, 2,180 pounds of cream and vanilla flavored glaze and almonds. In total, this cake could feed 59,000 people.
Chef Lynn Mansel began to prepare a cake on February 1. With 57 it cooks baked total vanilla biscuits 700, each measuring 45 by 60 centimeters. Then, using a cream blocks 200 are formed of 5 or 6 layers which are then joined together. Each level of the cake was placed on an iron shelf, and with a special lift cook lifted the cake and decorations for each "floor».
3. The longest veil bride was Sandra Mechleb, who marry Chadi Abi Janis October 18, 2009-the year in Lebanon. In general, the length of the wedding accessories was 3358 m.
This record has not yet managed to beat anyone, but some have also chosen bride veil epic proportions. For example, Elena De Angelis from the Italian town of Caselle di Principle at her wedding veil could boast that little bit not quite live up to 3 kilometers.
4. Wedding Franscheki Colombo and Dzhampiero Dzhannokkaro took place at the beach situated in Morcone, located on the island of Elba, Italy, on June 12 of 2010. On the "painting" underwater diver 261 attended.
5. bride Christa Rasanayagam at the wedding accompanied by 79 bridesmaids aged from 1 year to 79 years, while the groom Suresh Joachim was "only" 47 best men between the ages of 2 and 63 years. This is an incredible number of bridesmaids and groomsmen needed to carry a giant bouquet of the bride, also got into the Guinness Book of Records.
6. Designer Kosmina Englizian from Romania fell into the Guinness Book of Records by creating unusual wedding dress. Her unique wedding dress decorated with 55 thousand Swarovski crystals and pearls.
This dress weighs about 12 kg, it was sewn with 35 meters of lace. Masterpiece valued at $ 40,800 and was called "Crystal Dream».
7. No one really can not say how many years should be a bridesmaid at the wedding, but usually it is the same age as the bride. However, at the wedding of Kira Harwood and James Lucas bridesmaid was 105 years and 171 days.
Edith Gulliford was the most elderly bridesmaid and hit the Guinness Book of Records. This unusual wedding took place on 31 March 2007 in Chatham, United Kingdom.
8. Francois Fernandez (b. April 17, 1906) and Madeleine Francine (b. July 15, 1907) can hardly be described as "married". Couple registered their relationship February 1, 2002-th year, once in the Guinness Book of Records as the most elderly couple Brac.
In total, the time of the marriage, they were 191 for two years and 126 days. The wedding took place when the bride turned '94 and 201 days, and the groom - 96 years and 290 days.
Another unusual wedding took place in 2011. Rose Pollard (90 years) and Forrest Lunsvey (100 years) decided to get married, not afraid of such an advanced age. They met in 1983 at a dance and all these years talking, despite the fact that lived within 60 km of each other.
In 2001, the year Lunsvey lady did offer, and received the answer: "I'll marry you, when you're 100 years old!" Rose had to keep his promise, though she could not imagine that the groom will remember this oath and, even more so that live to a hundred.
The wedding took place in the hundredth birthday of the groom, was attended by 90 guests. By the way, Lunsvey admitted that he never led a particularly healthy lifestyle. He smoked for 27 years, regularly consumed whiskey and loved junk food.