The only goal was scored in the fourth
minute with a penalty kick Luka Modric.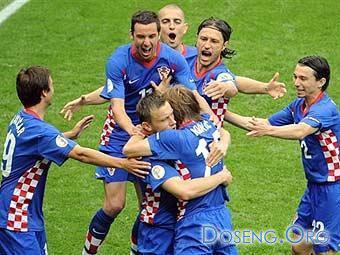 Croatia's football team won their first victory at the European Championship (Euro 2008). The match between Austria and Croatia, which took place on Sunday at the stadium, "Ernst Happel" in Vienna ended with the score 1: 0. The only goal was scored in the fourth minute with a penalty Luka Modric.
In the first half Croats possessed a distinct advantage. In the fourth minute Olic entered the penalty area from the left flank an opponent, and defender René Aufhauser Austria rigidly attacked him in the case. Olic was on the lawn, and referee Peter Fink penalty. 11-meter free-kick confidently implemented Modric.
Until the end of the first half, the Croats had a few dangerous attacks. The very real opportunity to score the second goal missed Mladen Petric: after hitting the striker from close range missed the goal.
After the break the pace of the game much sleep, you can use the Austrians, who have become much more closer to the goal. However, until the end of the game the score did not change.
Croats qualified for the Euro 2008 qualifying group from one team from Russia, leaving behind the tournament British. Prefabricated Austria and Croatia are the group «B» together with the players from Germany and Poland.
Recall the game of Euro 2008 held from 7 to 29 June in Austria and Switzerland. In the European Championship involved 16 teams, including the Russian national team, which is led by Dutch coach Guus Hiddink will perform in the group «D» and will play against Spain on June 10 in Innsbruck, Austria, June 14 - with the Greeks in Salzburg, June 18 - with Swedes in Innsbruck. To exit the quarterfinals need to take a group of first or second place, Interfax reported.