Students advance to the capital were highly classified answers to the questions of the Unified State Exam in mathematics. To investigate this situation has begun Federal Service for Supervision of Education and Science.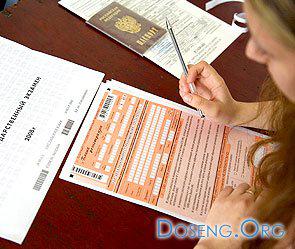 The audit sixty thousand examination papers revealed that many of them copy each other, matching up to the decimal point. In doing so they completely overlap examples of solutions developed by the drafters of the exam. Currently, it turns out, at what stage there was a leak of classified information.
"In the process of verification work revealed that dobukvenno practically coincide with those recommendations that after the exam, one day, come from the Federal Institute of Pedagogical measurements for experts to test - lead" Vesti.ru "the word pro-rector of the Moscow Institute of Open Education Ivan Yaschenko. - That is, the child literally wrote the decision that the drafters have prepared for their experts. This means that there was some leakage, children have this information and recorded it in the work ».
Recall that a year ago there was a similar incident. Ten hours before the unified state examination in Russian language on the Internet were posted answers to test questions. Head of the Federal Service for Supervision in Education and Science Viktor Bolotov called the case unprecedented. "Due to the fact that the decisions contained in this graduate of the work contains an error, this fact excludes the participation of specialists from federal agencies for what happened," - said the head of the then Dnyam.Ru Rosobrnadzor.
The authorities have promised to toughen the responsibility of the organizers and participants of the Unified State Exam. According to Deputy Head of the monitoring and evaluation of the quality of education of the Federal Service for Supervision of Education and Science Tatyana Barkhatova, it planned to introduce relevant amendments to the Administrative Code.
Note that in 2008 the organizers have promised to eliminate the exam situation leakage answers. We are going to give each student an individual package with tasks that should have been prevented early reading test and their solutions. To protect the results of the unified state examination brought the FSB special technology to check instances received answers pupils in undistorted form, without any leakage and copying.