Another victim was the ninth-USE,
who died on the way to the exam from a heart attack.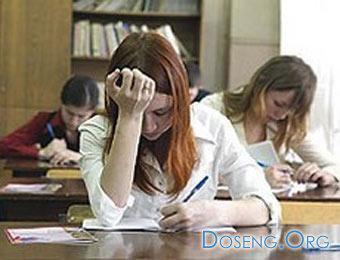 In the Vologda region, two students were victims of the USE. In the village Bereznik Vologda region 15-year-old schoolgirl committed suicide after being found a mistake made by her at the time of a single municipal math exam.
According to the regional "Rescue 01", the girl was found in the summer kitchen, where to hang after the exam. Governor stipendiatka Pauline Belova included in the list of the hundred best Russian students.
Earlier in Cherepovets student of 9th class, Dmitry Rogozin, has died of a heart attack on the way to the exam.
According to experts, in both cases, the cause of the tragedy was the psychological overwork due to excessive training load.
It should be noted, as it became known yesterday, the first evaluation conducted in mathematics exam in Chukotka among ninth-grade pupils were untrue. Due to a failure in the computer program honors received "two", and pupils remedial classes - "five".
Kemerovo students, in particular, have collected 44,000 signatures for the abolition of the Unified State Examination (USE) and intend to sue Rosobrnadzor because they were forced to take the exam, which is required by law only since 2009.
Until 2009, the exam is conducted as an experiment, which implies consent of the parties involved. Meanwhile, during the exam opinions of pupils in many regions of the country, no one asked - test form exam they chose force.
Graduates of one of the capital's schools are facing in terms of "C" with the tasks that official sources of preparatory materials is not offered to parse. Moreover, graduates claim that faced with this kind of job for the first time. As a result of this, many simply could not meet the third part and thus pass the Unified State "excellent". However, on the question of possible lawsuits graduates difficult to answer.