The famous Soviet and Kyrgyz writer
Chingiz Aitmatov died from the effects of severe
inflammation of the lungs, leading to lung failure.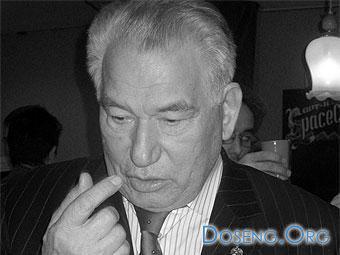 The writer died in the German city of Nuremberg clinic before they reach the 80-year anniversary just a few months.
Chingiz Aitmatov was born on December 12, 1928 in the village of Seker Talas region of Kyrgyzstan. In 1948, he enrolled in the Agricultural Institute in Frunze (now Bishkek), from which he graduated in 1953.
In 1952, Aitmatov began publishing stories in the press in the Kyrgyz language. Upon graduation within three years he worked at the Research Institute of cattle breeding, while continuing to write and publish stories.
In 1956 he entered the Higher literary courses in Moscow (graduated in 1958). In the year of the course, in the journal "October" was published his story "Face to Face" (translated from Kyrgyz). In the same year published his stories in the magazine "New World", published a story "Jamila", which brought world fame Aitmatov.
In 1990-1994 he worked as an ambassador of the USSR and Russia in the Benelux. Until March 2008 the Kyrgyz ambassador in France, Belgium, Luxembourg and the Netherlands. In 2006 Chingiz Aitmatov took part in the release of book signings century.
Winner of the Lenin Prize (1963) and three State Prizes (1968, 1977, 1983), a national writer of Kyrgyzstan. Hero of Socialist Labor (1978), deputy of the Supreme Soviet of the USSR, a member of the Communist Party of Kyrgyzstan, member of the Secretariat of the Union of Writers and the Union of Cinematographers, one of the leaders of the Soviet Committee for Solidarity with the countries of Asia and Africa, the chief editor of "Foreign Literature", the initiator of the international intellectual movement " Issyk-Kul Forum ".