At the post-match conference coach of Russian national football team he gave his assessment enchanting Russian victory over the Swedes.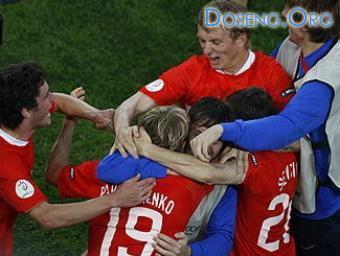 Russia coach Guus Hiddink after the team finals of the European Championship 1/4 expressed his satisfaction with the result, the commands in the group stage and emphasized the special importance for him personally games with the Netherlands, the TV channel "Sport».
 - We are very proud of the result - quoted Hiddink official website of the tournament. - But this is not enough. On Saturday we will have a very difficult game against Holland. This match will be very special for me, because I know, and the players and coaches. We already have a problem, because the team only two days to recover. In my possession, unfortunately, there is no equal in strength of 20 players, so we're constantly playing one composition. The Dutch also played against Romania, reserve staff and their base resting 5 days.
I am proud of my players, who have made enormous progress over the few days. After meeting with Spain, I told the players that they have two options: fight or go home. They made their choice. They fought and played from the heart, and I'm proud of this team. Today we tried very hard to score the first goal as quickly as possible - it was an incredible sight. The only thing I can criticize the team - is the realization of moments. We had a lot of good opportunities to score more and make the score 3: 0.
Andrei Arshavin had a good game, constantly creating danger in front of goal. He always knows where the rivals. Arshavin is not enough physics for the entire match, but the reason why I released him on the field, is that the game is the team of Andrew and without him is very different, and this difference was we needed. Swedes like when playing against them two distinct forward, back to their goal, but they really do not like to put pressure on the area holding midfielder. That's what I tried to use.