24 and 25 June in the Russian capital will be at
presentation of passport purchase
certificates for the semifinal match.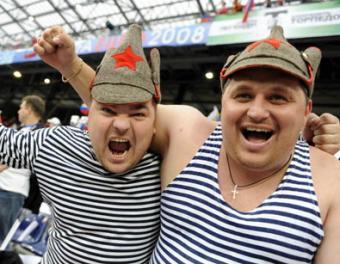 Tickets for the semifinal match of the European Football Championship between Russia and Spain will be available in Moscow, the press service of the Russian Football Union (RFU).
It is reported that on 24 and 25 June in the Russian capital will be upon presentation of a foreign passport to buy so-called certificates, which in those days in Salzburg and 26 June in Vienna can be exchanged for tickets to the game.
The exact time and place of sale of certificates RFU promises to announce later.
Tickets also will be available on 24 and 25 June at the "Russian House" in Salzburg from 10:00 to 20:00, and on June 26 in Vienna.
Ticket price - 300 euros (1st category) and 200 euros (2nd category).
On the eve of the Minister of Sport, Tourism and Youth Policy, the head of the Russian Football Union (RFU) Vitaly Mutko said that his organization intends to achieve for the fans maximum quota of 10 thousand tickets.
We note also that the Austrian Embassy on Monday denied the information that the Russians wishing to travel to the semi-finals in Vienna, did not need a visa to enter the territory of Austria. They noted that those who see the game must immediately send an application for a visa at the consular department of the embassy.
Especially for this in the Austrian representation increased working hours. So, now and 24 June, the consular department will run from 9:00 to 20:00 MSK MSK; June 25 an application for a visa are accepted until 12:00 MSK. Applications that are submitted after noon on June 25, the Embassy will not consider.
As for the Russian fans, who already in Austria expires Schengen visa, then they are allowed to remain in the country until July 1, 2008. This is due to the fact that a significant number of Russian fans, who came to Austria for the matches of the European Football Championship, the visa issued only during the group stage of the tournament. As a result, many of our fellow citizens have not been able to visit the quarterfinal match against the Netherlands.
The semifinal match of European Championship between Russia and Spain will be held on Thursday, June 26 at the Vienna stadium "Ernst Happel". The winner of this game will meet in the final game in Vienna with the winner of the match Germany - Turkey, scheduled for June 25.