Having won the semifinal match over Turkey with a score of 3: 2,
German team became the first finalist of the European Championship.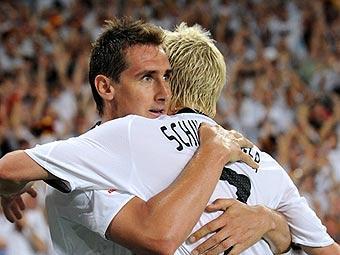 Germany squad on Wednesday became the first finalist of the European football championship, with a score of 3: 2 (1: 1) beating the team of Turkey in the semifinal match in Basel, Switzerland.
Contrary to all forecasts the score opened the Turks: 22 minutes, midfielder scored Boral. But after a few minutes Bastian Schweinsteiger to feed Lukas Podolski equalized - 1: 1.
For a long time the expense and did not change in the game until the 79th minute scored the German team striker Miroslav Klose, accurate header shutting canopy Philipp Lahm from the left flank. Then again affected the famous Turkish stubbornness - in the 86th minute scored the Turkish team striker Semih Sentyurk.
It seemed that luck again okzalas side team Fatih Terim, but at the end of regular time the Germans pulled out a victory: the decisive goal in the 90th minute of the meeting held a German defender Philipp Lahm.
The opponent of the German team in the finals of Euro 2008 will be determined on Thursday, June 26th, in the match between Russia and Spain.