During pregnancy, the actress gained about 20
kilograms, but immediately after birth has started
intensive training and sat on a diet ...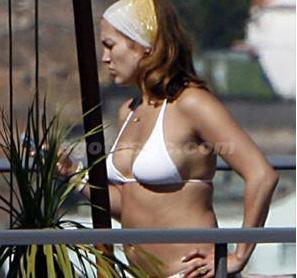 Actress and singer Jennifer Lopez, who recently gave birth to twins, the first time after the event undressed in public. It happened during a holiday in Spain - said FederalPost.
Jennifer looks great. Russian fans of the singer can personally verify this at the awards ceremony Muz-TV 2008, where she was invited as a guest. However, all concerts, including Russia, which took place after delivery, Lopez carefully hides his belly for baggy blouses and capes.
Now fans can see that, for a few months ago gave birth to a female, Lopez looks very good. Only slightly pendulous abdomen and issues that Lopez recently became a mother.