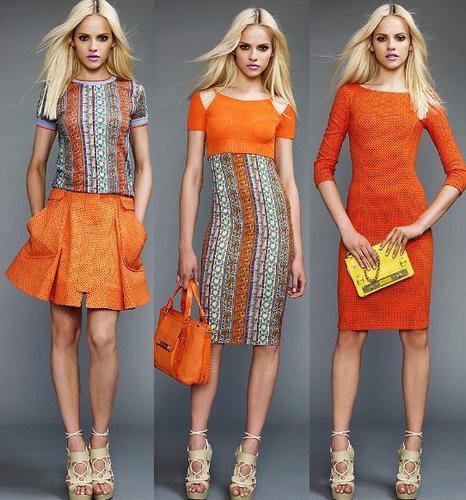 From what can or can not a woman to combine different colors in clothing, will depend on its appearance. Created image may look bright, playful and elegant, or, conversely, tasteless, boring and vulgar.
If nature has not bestowed the gift of your sense of color, you should not despair. There are a few simple rules to follow that, you can always successfully mix and match clothes from your wardrobe in color.
There are three main approaches to the combination of colors:
Monochrome. This method involves the selection of one of the base color. You can use all the variety of possible shades of the selected primary color. They can be bright, dark and light.
Achromatic. The basis for such combination can take any one of three colors: black, white and gray. They can be combined with absolutely all the other colors that you will pick up on your own and mood.
Complimentary. This approach is most suitable creative, courageous and extraordinary people who are not afraid to experiment. Here are most appropriate to combine contrasting colors. For example, red and green, blue and orange, yellow and purple. But this does not mean that a woman should only use this combination of colors. She could use a light lilac and pale brown color instead of yellow and purple.
In addition to the theory of color matching, there are popular color combinations. It is not necessary to use the same outfit more than three colors. With all of this must take core about 75%, and the remainder, respectively, 15% and 10%. Must be combined with cold cool shades (blue, green) and warm with warm (red, orange, yellow). You can not use only one color in clothing. Better if it will be at least two.
When a woman chooses the lower part of her clothes, she should remember that this is the basis of the total composition. So there must be less bright and attracts the eyes than the top. Buy a basic wardrobe - white shirt, gray skirt, black formal trousers. These garments can be combined with almost all colors and shades toilet articles.
In addition to all of these rules always follow their own inner sense of "disliked" and "for my appearance or not." After all, the chosen attire should reflect the character and mood of its owner.