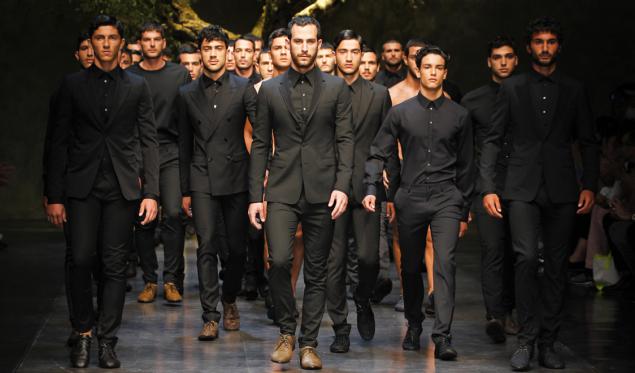 In the 21st century men's fashion for relevance almost equal to that of female. Modern man watching his appearance in accordance with the fashion trends. Fashion is so diverse that every young person will be able to pick up a completely individual way.
A man can be different in style, but each is necessarily present a fashionable novelty. This is especially noticeable in young men 18 - 27 years. At this age, the personality of the desire to stand out and show the world its originality and uniqueness. Older men are less follow the fashion trends, they prefer the classic style or just comfortable clothing. But fashion does not end with clothing, it can be accessories, handbags, hair, occupation and even demeanor.
In 2014, will be on hand to make fashionable small tattoos with meaning. They must be practically invisible and display the reality of today. Of men's accessories are very relevant metal jewelry made of precious metals and not only. Various brilliant attributes, bracelets, watches, rivets, buttons and so on.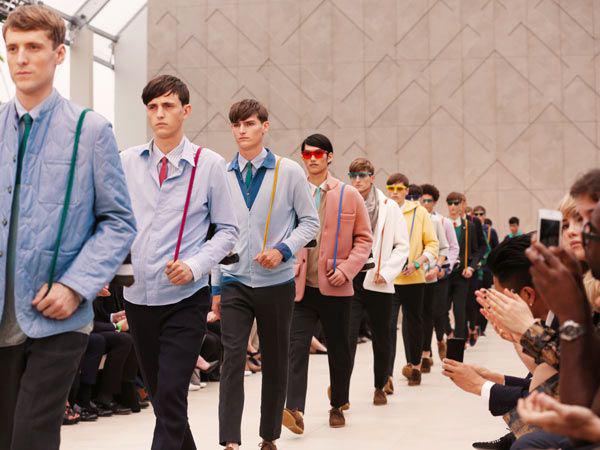 In fashion patterns in the form of regular geometric shapes. Design sweaters, cardigans, pullovers decorated with various triangles, squares, polygons. This pattern will give strong floor rigor and clarity. Its good to combine with a rich dark blue. Fashionable unisex colors, those who are more accustomed to women. The contrast of these colors will emphasize spirituality and a rich inner world.
This season, everyday shirt can replace a simple turtleneck. This is much more convenient, warm and welcoming, besides perfectly with fashionable voluminous knitted scarf. Shoes should be selected for each image, respectively. Very fashionable this season have bright shoes in classic American style. As always, the relevant sneakers and running shoes in different colors and patterns.
Business style remains in fashion, but it is necessary to add a bright element in the form of a tie, shirt or socks. Color business suit can be from dark gray to dark blue, black.
Bags for men in 2014 sustained in sports or classic style with the addition of textured materials and different types of decor. Bags preferable to a long strap, worn on the shoulder or diagonally forward. Also fashionable backpacks in sporty style and versatile backpacks sacks.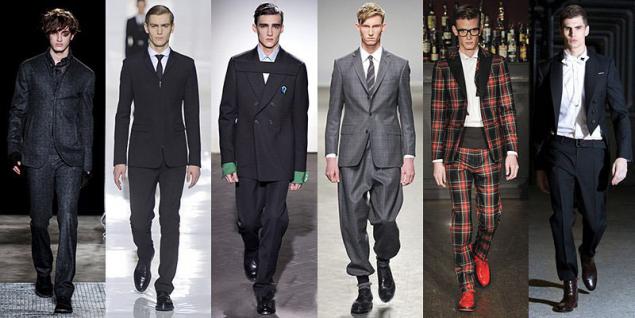 Unconditional fashion trend will watch from precious metals with stones, especially the details of handmade.
Jeans must be present in every man's wardrobe. Better if there will be several, some classic cut and color, while others with the addition. Indispensable for the summer light jeans: white, gray, beige, and grooved. Choosing jeans, be sure to take account of their shape, full fit jeans cut free, men with a perfect figure and classic skinny jeans.
In 2014, the wardrobe of fashionable men should be replenished with light jackets and shirts made of silk and cotton, which are suitable for both jeans and a jacket. They may be close-fitting, tight, straight and free cut. Bright trendy shirts with prints, but you need to be careful in the choice of prints. Popular models in checks, stripes and with various inscriptions.
In our time, relevant fashion for men's hairstyles. This season stylists recommend cropped hairstyle with fashionable details. Unacceptable haircut under the machine, they open all the irregularities of the head and spoil the general view of hairstyles. Popular hairstyles in the style of the 40s and 50s of the 20th century.