In Estonia, the gathering will take place SS veterans.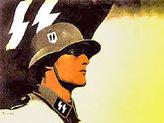 In the town Sinimäe near the Estonian-Russian border on Saturday held meeting of veterans of the 20th Grenadier Division of the SS (1st Estonian). In these places, the so-called line of Tannenberg the summer of 1944 have been the fiercest battles in Estonia retreating Nazi forces from the advancing Red Army.
The main backbone of the Nazis was the Estonian SS Division was among the advancing troops Estonian Rifle Corps. It is expected that the current rally of SS veterans will be held under heavy police protection. As informs "Interfax", to the venue of the rally are going to come and activists in zaschitupamyatnika Bronze Soldier of Tallinn "Night Watch».
Former Estonian SS rallies are held annually. Veterans Division are the backbone of Union of Estonian freedom fighters, which, according to recent data, there are about 3 thousand people who fought against the Soviet Union. In total, the Nazi army and the army of its ally, Finland fought about 70,000 Estonians.
Recent years, veterans often serve the population, spread their information and various applications over the Internet. In honor of the "liberators" receptions held in the government with the participation of the Prime Minister. Many of them were awarded the Order of the Republic of Estonia. In honor of the "freedom fighters" who fought in 1944 against the Red Army monument in Tallinn on a hill Maarjamäe. In addition, elevated Sinimäe in Vaivara monuments to SS from Estonian SS division, as well as Dutch, Walloon and Norwegian esesovtsam.