In the capital of South Ossetia destroyed every one of the hospital, said the Commander of Land Forces of the Russian Federation General of the Army Vladimir Boldyrev. "Tskhinvali is now completely destroyed, there is no water, electricity, destroyed all kindergartens, killed a lot of children," - said General Vladikavkaz. Completely destroyed 8 villages in the border areas.
According to him, now in Tskhinvali on the street October in the basement of a house are 50 civilians, more than half of them - the children. Vladimir Boldyrev said that these people are there for three days "without a drop of water and can not get out, because being" very heavy fire.
He added that the Russian peacekeepers are now trying to bring these people at least in some safe place. "There continues to fire, killing innocent civilians," - said Boldyrev.
In Tskhinvali there are still about 150 wounded, while there is no way to evacuate them, said the "Interfax" the official representative of the government of South Ossetia Irina Gagloyeva.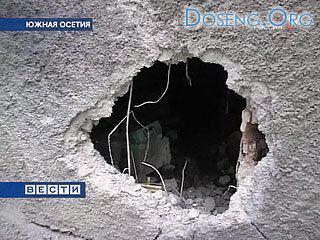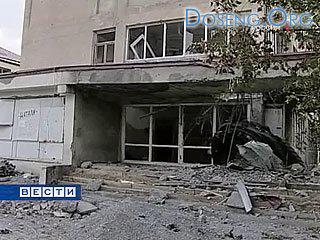 "The situation is difficult. The wounded are in the basement of the destroyed hospital, medication is not enough. At the hospital applied constant attacks from the Georgian side ", - she said.
As the special envoy of the Russian Foreign Ministry, Yuri Popov, the Russian diplomats are in contact with the Georgian side, to get the possibility to evacuate the journalists, wounded, women, the elderly and children from South Ossetia, but so far little progress on this issue has not been reached.
Meanwhile Vladikavkaz on Saturday were taken 2 airmobile hospital, who are receiving the victims of armed conflict, the people of South Ossetia. In the field, it has made heavy operation. Most of the victims appealed to the hospital with shrapnel wounds and injuries from mines.
Also Vladikavkaz were taken to the hospital, doctors and medical equipment, the National Center for Disaster Medicine "Protection".
For two days, South Ossetia, left more than 34 thousand refugees. "In reality we have a situation of humanitarian catastrophe", - said the deputy prime minister, chief of staff of the Russian Government Sergey Sobyanin on Saturday at a meeting with the Russian president. For his part, Dmitry Medvedev said: "Our task - to help in overcoming the consequences of this humanitarian catastrophe." He ordered the government to take all necessary operational measures to provide humanitarian assistance to the civilian population of South Ossetia and Russian peacekeepers.
Meanwhile, it was reported that nine of the federal subjects of the Southern Federal District of Russia are ready to take to the 9000 South Ossetian refugees.