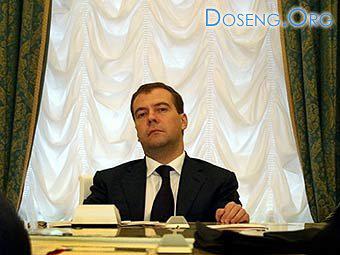 Russian President Dmitry Medvedev announced the completion of the operation to enforce peace in the Georgian-Ossetian conflict. The purpose of the operation, according to Medvedev, is reached, the security of peacekeepers and civilians provided "aggressor has been punished" and potential hotbeds of aggression will be destroyed.
On completion of the operation in South Ossetia, Medvedev said at a meeting with the Minister of Defense and Chief of Staff. Fragments of this meeting was shown on the TV channel NTV. The Russian president also instructed Defense Minister Anatoly Serdyukov to submit to the state awards servicemen involved in the operation in South Ossetia.
According to recent reports, the South Ossetian capital of Tskhinvali is now fully controlled by the authorities of the unrecognized republic and the Russian military. At the same time, a few days ago it was reported that the Russian army is fighting with Georgian troops 20 kilometers south of the capital of South Ossetia.
The so-called operation to enforce peace was initiated by order of the President of Russia on August 9, the day after the escalation of the conflict in South Ossetia. The Russian leadership has seen the purpose of this operation, the protection of Russian citizens in the region (about 90 percent of the residents of the unrecognized republic have Russian citizenship). As part of this operation, as reinforcements to Russian peacekeepers in the conflict zone were deployed tanks, paratroopers from different regions of Russia, and two companies of the battalion "East" and "West", stationed in Chechnya GRU.