Dmitry Medvedev became president of Russia at the age of 42 years and may be called the youngest governor of Russia (since 1917.), and the youngest president of the current leaders of the European states. In short, "the young successor." In all there's successor, Dmitry Medvedev, Vladimir Putin? Politics - not our subsistence, but we tried to compare the style and fashion preferences of the two leaders of the country, former and current.
During the reign of Vladimir Putin was born from the experts, the term "Putin effect". All that is Vladimir Vladimirovich, immediately became popular with other politicians and the country's population. As soon as Putin was seen with Patek Philippe watches on the wrist, this model became the best selling brand in the luxury-segment Russia.
A little later, then-president was photographed during a visit to China in hours Breguet Marine, and they were swept from the shelves of boutiques in a few days after the publication of the photo.
Vladimir Vladimirovich managed to make his style and popular among the masses. For example, the famous presidential jackets with hoods Alaska, trimmed with fur, was nicknamed "Putinka" and most people's love. Will Dmitry Medvedev repeat and surpass "Putin effect"?
Whether it is necessary to draw parallels between the appearance of the two presidents? Whether there is a causal link "Putin-Medvedev" in two guises rulers? To answer this question, we must, of course, talk about Dmitry Medvedev.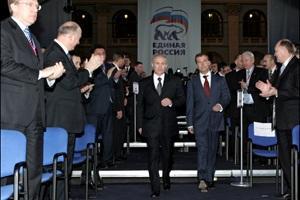 Dmitry Anatolyevich grew up in a family of academics, one of the prime areas of Leningrad. But this does not mean that such things as a sense of style and taste for luxury do not apply to him. It's obvious that your image of the new president is not serious and is familiar with fashion.
Foreign media call our new president one of the most elegant politicians of the world. In an interview with Paris Match, he admitted that he is not indifferent to the style dandy. Medvedev spoke about the love of the watch brand Frank Muller. He tries to pick up the color of the dial so that it is in harmony with the color of the shirt. Perhaps it can be called a manifestation of dandyism.
Very important is the fact that Dmitry Medvedev is equally elegant and persuasive and clothing subordinate official dress code, and in business casual, and very simple, laid-back things. As our former President, Dmitry Alnatolevich can be impressive in the good old style of top management - excellent sitting classic dark suit, a large tie. But in an informal setting instead of "Putin's" jacket Alaska wears a leather jacket with pockets on the chest, large knitted sweater with a high neck. Things-good replacement favorites Vladimir Vladimirovich!
Medvedev copes with two major appearance president: "person power" in immaculate business suit and the "common man", close to the people in the home jersey knit.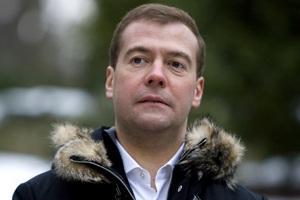 However, Dmitry Anatolyevich and brings something of their own in a typical standardized presidential image. Presumably, this fresh stream - his desire for gloss and sophistication. Tie is often not tied to the classic, and a current style. As you can see shirt cuffs stylish cufflinks.
It is not known whether the weary Dmitry Medvedev strict dress code and the need to officialdom, but it is casual with obvious pleasure, jeans, leather jacket, a simple black turtleneck sweater, or the president in favor.
The color range of clothing Dmitry - noble, elegant, dark and muted, in short, as befits clothes president. Medvedev nurtures a special love to the black color, all kinds of nuances of dark blue and burgundy. Can afford to dim blue or purple shirt jacket, but generally adheres strictly selected range.
What the experts opinion is shared by the world of fashion style Dmitry Medvedev? The image of the new president "Business Style" asked to comment on the world-famous fashion historian Alexandre Vassiliev. "Dmitry Medvedev continues the general line of the style of Vladimir Putin. I do not expect that in this respect the new president will present us with surprises. He is likely to remain committed costumes Brioni, which, as they say, preferred his predecessor. However, his style outside the formal situation for us and remains a mystery. The most successful style Medvedev I think his choice of ties and shirts. Dmitry Medvedev will no doubt try to be very elegant. Will it have it be so? A spouse Medvedev puts very impressive. I think she has all chances to become a style icon, "- stated the point of view of Mr. Vasiliev.
It seems to us, and the style of Vladimir Putin and Dmitry Medvedev's style is a quintessence of masculinity and a simple, elegant way, but each in its own way. If Putin convincing manner Bond, as well as an officer and a gentleman, Medvedev is organic in the image of the professional and intellectual. Both represent success, strength, power, both already have things-trumps with which to associate them. And Will spread in the political and business environment, ease-elegant look «à la Medvedev," time will tell.