Mandatory uniforms still caused us a lot of negativity: disagree with the rules do not hesitate, come to the ballet in jeans, in wedding dresses to the prom, and the top-Sider events where established Black Tie. Creates confusion and people prescribing a dress code, and softened the rules. The Village has decided to understand what should be worn if the invitation is White Tie, Black Tie or, for example, Smart Casual.
White Tie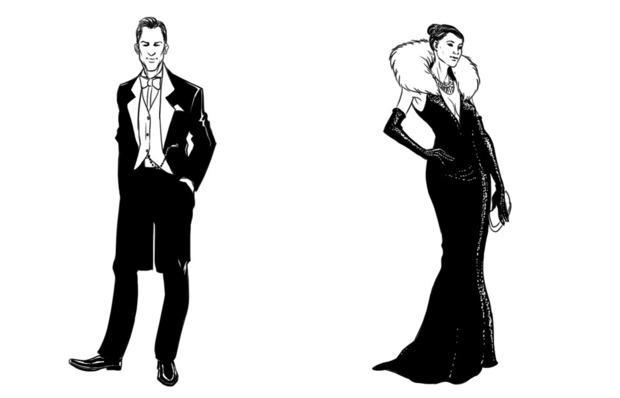 If the invitation appears White Tie, will mean a minimum reception at the ambassador or the awarding of the ball, and not less than the Nobel, because even at the ceremony of "Oscars" gala at least observe Black Tie. It's hard to remember the dress code, the appropriate White Tie on the rigor and formality, probably because this just does not.
M. dressed men occupation seems a little easier as compared to the selection of women's toilets. Case in strict regulations: registered almost every item attire, so you can make a mistake unless deliberately. Man, going to an event where registered White Tie, should be in a bow tie, and in evening dress. Thrace, in turn, must be black - other colors are not allowed. Under the suit jacket worn on three buttons, which you need to remember two things: it should be white only, and always be fully buttoned. From must-have accessories - gave its name to the dress code of white tie and white handkerchief, of the desirable - pocket watch, white gloves, and as it may seem a joke, a thin cane.
J. Women's a little more difficult, if only because that dress on the floor, without which the event White Tie is better not to appear, styles more than the classic men's coat. If the choice of the woman style more available, then the rest of the details amateur excluded: the hair must necessarily be laid in hairstyle, eyes and lips dyed and hand gloves covered the maximum length, corresponding, however, long-sleeved dress. On the shoulders can be, but is not required, a fur cape. No jewelry is also better not to come - can be rented, if only the stones were real. With a can and must take a tiny purse.
Black Tie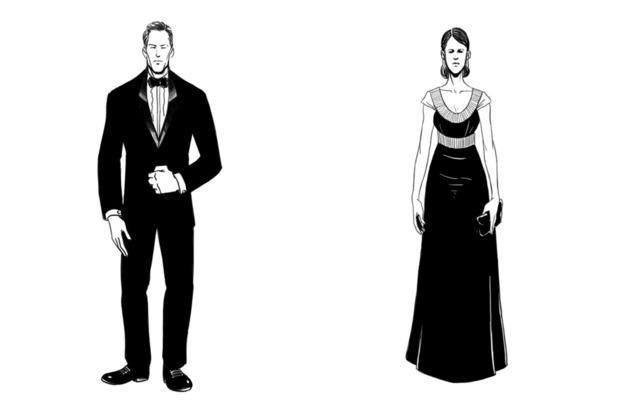 Black Tie - still the official and solemn, but more common and simple dress code. This style weddings, gala receptions or theatrical premieres.
M. In men it always means a tuxedo - a jacket with satin collar and lapels, strict pants from the same fabric as the tuxedo, and, in fact, a black butterfly with right angles. The main rule concerning the butterfly - it must be fastened, and not be attached to the shirt as a badge. With shoes it's simple: choose from the classic derby have or Oxford, but they were not lacquered.
J. Women such activities await all dressed in the same long evening dresses or, depending on the solemnity of the event, cocktail dresses are not above the knee. There are still welcome decoration, but now you can get expensive jewelry. Fur capes can also be left at home as ostromodnye dresses of the latest collections of Japanese designers. Everything should look like the most noble and elegant, so the only option footwear - shoes with heels.
Cocktail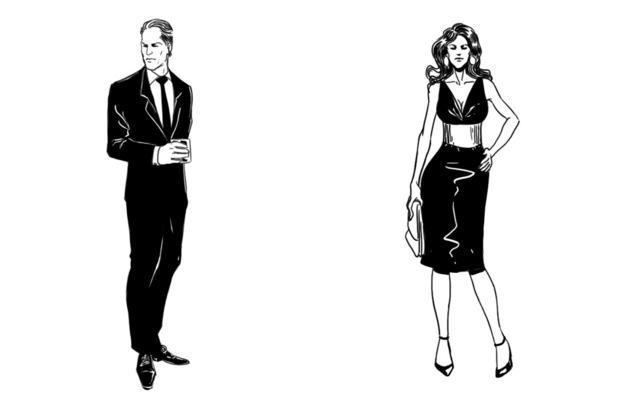 The event is a Cocktail dress code does not mean such rigor as White Tie and Black Tie, but also full of nuances that should not be neglected.
M. Instead tuxedo men can wear a classic dark suit and tie monochrome replace brighter or opt out of it, perhaps in favor of a tie. Tie silk belt, too, is not necessarily important, do not forget to keep unbuttoned the bottom button of his jacket, set of hoses starched white cuffs for no more than two centimeters, and to put these socks, which in the case zakidyvaniya his feet or on the table would not show and millimeter naked body. The fact that the socks should be dark pants a couple of colors and tie should touch the buttons on his trousers, to mention, it seems, do not: These rules apply to any dress code at any event.
J. Cocktail dress - the most appropriate option for women. Focusing on the nature of the event, you can even wear a dress knee length is much higher, but with compensating the severe abuse of riding. Shoes again - with high heels.
Smart And Business Casual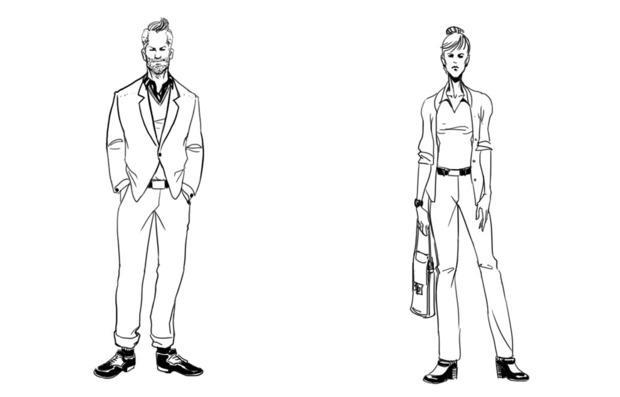 Quite often, in the invitations to corporate events or business meetings, you can see the postscript "Dress Code: Smart Casual or Business Casual». In this case, the rules of how to look slightly blurred and depend on the time of day.
M. Harder dress code of business meetings, perhaps, only the choice between Oxford and Derby to the tuxedo. However, the liberalization of recent decades has also affected the fashion business suits. Today, there is nothing wrong in that, if a man will appear at a meeting in a jacket with a soft or a natural shoulder line, in free podvёrnutyh trousers. Necessarily remain classic shoes (derogations are permissible only in color and degree of varnishing). Tvinset - turtleneck and cardigan - also quite appropriate in tandem with the same as if big, but slightly narrowed down trousers.
The most dangerous option - a tuxedo or a very high quality jacket with jeans or even shorts: you can afford, if there is no doubt in his own taste, and the adequacy of partners. The most boring, but also the most win-win - a classic, moderately strict business suit of dark color, monochrome or almost invisible stripes. With a strong desire to emphasize the formality can be a tie, with optional narrow, but the butterfly is better to keep to entertainment events. If the meeting is scheduled for the morning or afternoon, good will light suit-deuce. Again, the nature of the activities and a sense of humor depends colleagues the opportunity to experiment with color.
J. Women have few opportunities to diversify outfit: an unusual color and unusual shoes. Clothing should not be pretentious: classic elegant style in business meetings is preferred, but the absence of the brightest parts easily seem boring.
In talks with foreign partners or important business meetings can establish a dress code Btr (Business Traditional). This means that the choice you do not leave, men should wear a classic solid color or a combination suit, women - fitted trouser suit or a dress with a jacket case. However, with its rigor Btr still leaves room for the imagination, unlike Bb (Business Best). Here, everything is very simple: a man wears a dark blue suit, white shirt, tie any shade of red, the classic varnished shoes and do not forget about the cuff links; women should abandon the individual skirts and jackets and put on a gray, beige or dark blue suit with stockings and shoes on a 3-5-inch heels.
Costume parties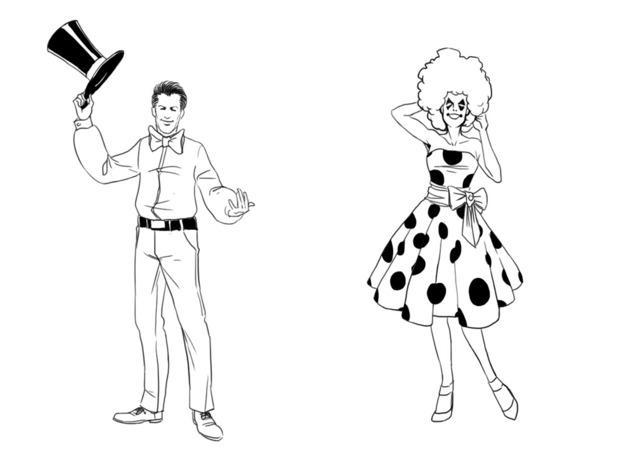 Costume party in Moscow is not such a rarity. Most often they coincide with the anniversaries of clubs, the arrival of unknown and still a very tough group and access nostalgic films of bygone days. Moreover, the invitation can give only a vague hint of how to look, dress and come up with will have their own. Sometimes the organizers help to tune in the desired fashion using mudbordov, as it did last year, "Solyanka", marks the fourth three-day circus birthday party. If you are afraid to death of clowns, or are not ready to return home at night with a kilo of makeup on her face, you can observe the dress code with a few specific details (one may be unconvincing, especially if the input face control). The greatest risk at such events - to use the most prevalence of the proposed interpretation of the image and be one of hundreds of people in the same orange wigs.
Universal rules
 - If the invitation does not say anything about the satellite, that is not written, how many people it covers, at the business event is better to come alone.
 - As a general rule for all guests and events: in autumn and winter clothing and footwear should be darker than the spring and summer.
 - In the morning and afternoon activities appropriate to leather or suede handbags, in the evening - made of brocade, silk or beaded.
 - When choosing a dress always give preference to natural fabrics and avoid synthetics.