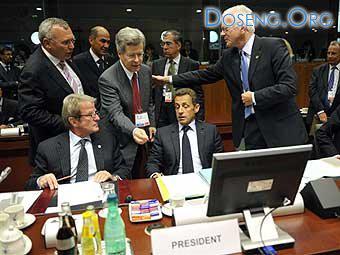 At an emergency meeting of the European Parliament of Georgia. Photo AFP
The European Parliament adopted a resolution on Georgia, which expressed support for Tbilisi and condemned Russia's actions in the Caucasus. The resolution voted 549 parliamentarians, against - 68, 61 MPs abstained, RIA Novosti reported.
The text of the resolution, the European Parliament firmly condemned "all those who resorted to force and violence" in South Ossetia and Abkhazia. At the same time Russia is blamed for the "unacceptable and disproportionate" use of force in the conflict zone, as well as the recognition of the independence of South Ossetia and Abkhazia, the European Parliament considered a violation of international law.
MEPs also supported a number of initiatives proposed at an emergency EU summit on September 1st. It is, in particular, the postponement of the next round of talks between the EU and Russia on further cooperation, as well as to send to Georgia supervisory committee of the European Union.
For the settlement of the conflict in the Kavakaze EU parliamentarians offered to convene a "Trans-Caucasian Conference for Peace».
An emergency EU summit on the conflict between Georgia and Russia, on 1 September. The Summit participants adopted a resolution prepared by the Italian authorities - it Russia calls to withdraw its troops from Georgian territory and comply with a peace plan signed brokered by French President Sarkozy. The second draft resolution was rejected at the EU, Poland was prepared. It proposed to introduce economic sanctions against Russia.