German magazine gave her first place in the ranking of "most corrupt majors».
The editors of the German magazine maiden Chica («Girl"), which comes in Munich dedicated a glossy spread offspring of the powerful - the "Golden Kids" as they say in Germany. Or, in Russian, children majors.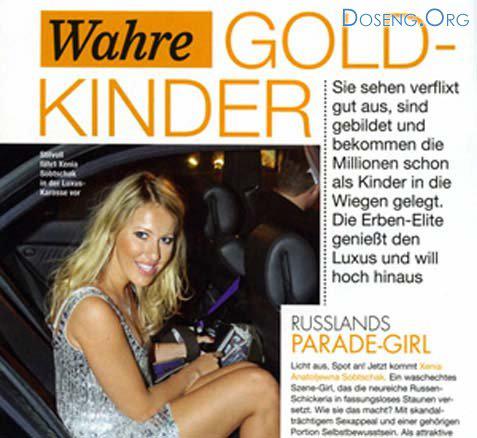 Reversal, as we know, these are two magazine strip. Almost all of the "majors", which stopped journalists look Chica, skuchkovalis on the right page. There are heirs to the throne of Monaco, Charlotte Casiraghi and Andrea, and incomparable Paris Hilton, and the son of a Greek millionaire Stavros Niarches and daughter of American millionaire Donald Trump - Ivanka. People are decent, well-known, with more than plump purses.
And all left page takes ... our Ksenia Sobchak!
Sobchak Germans blamed on what light is. But the most honorable place allocated.
In Chica believe that the leading "House-2" - just the personification of "mazhorstva" in the most vile sense of the term. For comments, "KP" addressed to the most Xenia. Alas, the phone did not hear about the leading publication in the German magazine, caught only negative about yourself and waved Duty:
 - I'm not interested in this rat race!