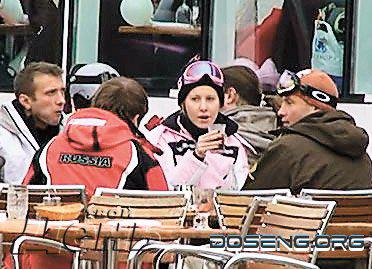 Ksenia Sobchak has managed to plunge into trouble, even in France.
While vacationing with her fiance Dmitry Savitsky on one of the most expensive ski resorts in the world, Courchevel, Xenia grossly violated the law.
One evening with Dima went to Ksenia rented a BMW in the center of Courchevel. Sobchak, apparently accustomed to that in Russia, she gets away with a lot, and grossly violated French laws.
On reaching the street, at the best boutiques, Xenia threw the car right on the roadway and went shopping.
Meanwhile, a wrongly parked cars drove policeman. The officer walked several times around the car and checked whether the door is locked.
But the screaming alarm and a police officer standing next to Xenia ignored. She simply shut off the alarm system, not even leaving the store.
As a result, the police had no choice, how to write fine, and report on the radio about the abuse.
According to the gendarmes, if Xenia for a few days does not pay the fine, it may never get a Schengen visa, and she will be banned from entering France.
Settled Sobchak and her betrothed in the suite of a five star hotel "Byblos". And Dmitry avoid publicity did not even register in the hotel. The very same receptionist Xenia forbade anyone to connect with its number.
At best, according to Russian tourists, the restaurant "Le Springboard" Sobchak appeared only a few days after his arrival in France. And then, when he saw a large number of compatriots prefer to dine in a restaurant high on a hill where you can be reached only on skis.
A trip to France for Xenia and Dmitry, who know more than six months, has become something of a pre-wedding trip.
A source