Having assets of businessmen and politicians Ksenia married a little-known actor.
"Ksenia Sobchak can make surprises to your friends. But today we are in shock! Congratulations "- this entry appeared in the singer tweeted Glyuk'oZy.
About a year ago there was talk that the hand and heart Sobchak offered her then boyrend, head of the Department of Culture of Moscow and the well-known businessman Sergei Kapkov. In the summer there were rumors about the imminent wedding of the former leading the "House-2" with opposition Ilya Yashin. But in November Sobchak and Yashin broke up, and soon 31-year-old TV presenter began to notice in the company's 40-year-old actor Maxim Vitorgan.
And now - a happy ending.
The wedding was held today, which was announced at the premiere of Maxim Vitorgan in the cinema "wick". Until recently, the happy event was hidden even from close. Xenia and Maxim suddenly informed that married a few hours before in a registry office in Moscow on Leninsky Prospekt.
Xenia, of course, knows how to provoke rumors. When she starred for the magazine "StarHit" in a white dress and veil, the signed photo "I have today an important event. Congratulate me ».
There are suspicions that this time it all play out. But then she found many helpers. Journalists have phoned to the wife of the famous actor Emmanuel Vitorgan to find out what they think about it. "We are happy that our daughter-- Ksenia Sobchak. It is a very decent man, "- said Irina Mlodik. "Ksenia Sobchak married Maxim Vitorgan! Uraaaaa !!! Congratulations !!!))) "- happy for the newlyweds Joseph Prigogine. The TV channel "Rain", where Ksenia Sobchak is one of the evening programs, also wrote wishes on the network: "Hurrah! Happy Friday. xenia_sobchakmvitorgan and congratulations with the wedding ».
For Xenia is the first marriage. Maxim has been married twice. He has two children: 15-year-old Pauline and 11-year-old Daniel.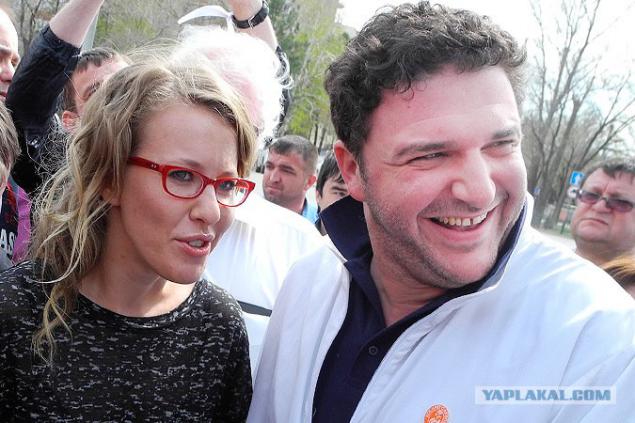 Source: