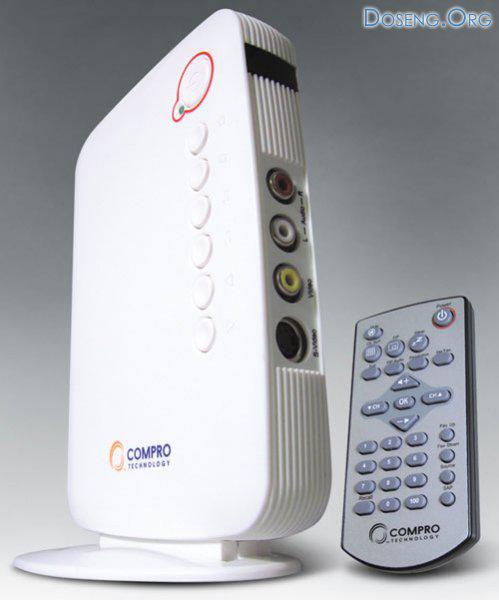 Company Compro Technology recently introduced VideoMate V200 - standalone TV tuner with high resolution up to 1680x1050 or 1600x1200 for television viewing on monitors with a diagonal of 15 inches to 22 inches, both with an aspect ratio of 4: 3/5: 4 and 16 widescreen : 9/16: 10.
To operate the new device does not need a computer, so VideoMate V200 does not require driver installation - you just need to connect the tuner to the monitor.
Opportunities VideoMate V200 includes a preview 9 channels simultaneously on one screen, the setting of priority channels, create a list of favorite channels. The new device also has a correction of 3: 2 pull-down, advanced 3D adaptive deinterlacing filter, progressive scan and squelch for clear and vibrant images from a conventional television signal. In addition, the function OptiMode allows you to select a set of settings for different types of video scenes with presets: TV, Game, Cinema and Custom.
Compro VideoMate V200 allows you to align the image aspect ratio and display modes using OptiRatio, such as 4: 3, 16: 9, Panorama, Full screen mode and SmartZoom, tensile movies in LetterBox on the screen. In addition, VideoMate V200 has the "Picture in Picture", supports high resolutions up to 1680x1050, allowing you to simultaneously watch TV on your monitor and work on the computer in a comfortable customizable window.
In addition to watching TV tuner VideoMate V200 series allows you to connect DVD-player, VCR or game console to view DVD-movies or playing games on a PC monitor. In VideoMate V200 series includes two models: VideoMate V200 and VideoMate V200F. The last solution allows the radio to receive FM-band and listen to them through the built-in speaker.
Specifications Compro VideoMate V200:
• Watching analogue channels on monitors, plasma screens;
• Receiving FM-radio (for the model with an index of «F»);
• Use the 9-bit audio and video decoder that supports modes SAP / Stereo;
• Auto Scan standard channels or full frequency range;
• The PIP, supports resolutions up to 1680x1050 pixels;
• Sound Effects Dynamic Bass Booster and Stereo Effect;
• Ability to specify the names of channels, add and remove individual channels;
• Adjust brightness, contrast, color, tint, sharpness;
• The presence of S-video and composite video inputs, as well as audio;
• Supports Xbox, PS2, PS3, Wii and other game consoles;
• Disable the timer through 30/60/90/120 minutes;
• Full-function remote control.