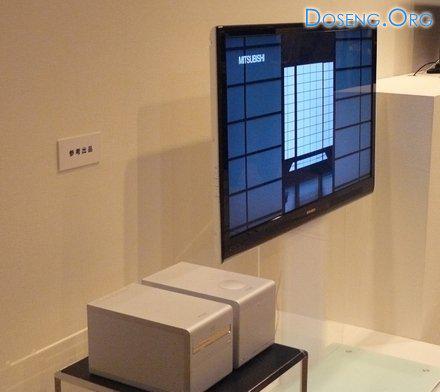 The Japanese company Mitsubishi has developed an LCD TV with a thickness of only 40 mm. It managed to achieve this through the removal of a television tuner unit detached. Nevertheless, Mitsubishi engineers failed to break the record of competitors from Sharp, whose LCD TV Aquos X is in a thickness of 34 mm.
Mitsubishi has developed a prototype LCD TV with support for Full HD-resolution 1920 x 1080 pixels, according to Tech On!
A feature of the prototype is its thickness, which is only 40 mm. It managed to achieve this through the removal of TV tuner detached unit, which is connected to the panel by means of wireless technology and transmits video in uncompressed form. Presented tuner is large enough, but it can be removed from the TV at a distance of 30 meters. Used to transfer the image frequency in the company are not reported as the most important characteristics of the prototype, including the length of the diagonal, brightness and contrast.
According to company officials, the first commercial TV on the basis of the prototype is expected in the autumn of 2008. It will have a screen of 40 inches.
The type of wireless technology in the prototype is not specified. Probably, here applied technology WHDI, which is engaged in the development of the largest electronics manufacturers, including Sony and Samsung. The new technology, based on chips Israeli company Amimon, allows to perform the transfer of high-quality content in the air without cables and with no apparent loss of signal quality.
The development of such TV deal, Sharp and Hitachi. Manufacturers each year trying to reduce the depth of LCD TVs, but to make it interfere with the body placed in the electronic components and the backlight.
Company Mitsubishi, however, failed to overcome the record set by Sharp - the beginning of the year, the company launched a new line of LCD TVs Aquos X, whose thickness is only 34 mm. In order to reduce the thickness of the shell, the tuner and all connections had to endure in a separate block.