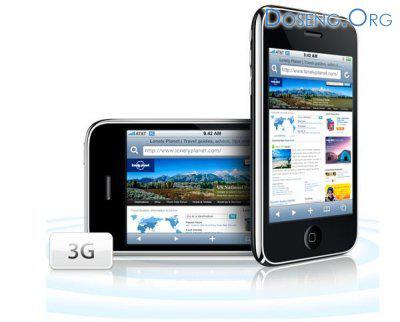 Those who do not sleep at night, dreaming of buying a new-fashioned phone, dedicated ...
Wow, it finally happened miracle undermining savings, I finally decided to buy a device for attracting the name «Apple IPhone».
My joy was simply no limit. When I came home, I opened the little black box strict, took the most long-awaited, fashionable phone, turn it on and drowned in the sea of ​​pleasure buying ... iPhone - a wonderful phone from Apple. It seems really managed to "reinvent the phone" as Jobs claimed during the presentation of the iPhone in 2007 ...
But, unfortunately, after a week of enjoyment gadget data revealed some shortcomings, which will be discussed below.
1. Short-time iPhone battery life
Black spot fine functionality iPhone 3G is the short battery life. Using WiFi, Bluetooth, GPS, iPod and mobile capabilities can drain the life force of any device. Undoubtedly, it is known to Apple, and everyone will come to mind the question of why they did not increase battery capacity to cater to the customer? And could this be the reason why Apple did not include some of the dates on iPhone technology, in particular the A2DP or exchange files via Bluetooth?
As indicated by the results of the experiment, organized by AnandTech, you can work with iPhone 3G for about three hours before complete exhaustion of its battery.
Active users, who use all of these resource-intensive function every day, we have to recharge your battery every night. Here are some tips to conserve battery power iPhone 3G.
Battery Status in the first week: despite the fact that the production technology batteries seriously stepped forward in the last 10 years, will not prevent completely discharge and recharge the batteries of their new devices in the first week of work. In the days of nickel cadmium and nickel metal hydride batteries is, increased battery life and ensure correct information on its charge.
Turn off Wi-Fi and Bluetooth, when they are not necessary: ​​it will save your battery, because the iPhone 3G will not shake the space around the electromagnetic waves in search of an access point or Bluetooth-connection. And the first and second turns off the options on the page.
Use two adapter or charging cable: put one next to the bed, and the second - in the workplace. This will allow you to charge the iPhone 3G during sleep and work.
Buy a battery charger or adapter for the car when you are driving, you can good "feed» iPhone 3G in your car, especially if you are traveling long hours (or in traffic jams).
Be sensible in general use! It probably sounds sad, but we should prioritize over when and what set of features iPhone 3G you really need.
For example, whether the cost to use the GPS during the trek to the nearest store? Save the battery for truly important things, such as to effectively enhance a couple of your photos at the party with the help of corporate epplovskogo zoom.
2. Lack of data transmission via Bluetooth
Yes Yes. Exactly. Apple iPhone can not transfer data via Bluetooth. It's unpleasant, if you want to upload photos to your computer or a friend's phone. For those who live in the United States, it is certainly not a problem - a generous tariff plans for internet make it easy to transfer files via e-mail. Elsewhere, however, is not encumbered so loyal tariff plans, this idea can be expensive. Probably have to wear all USB-cable with you, in the hope that the next will be a free computer.
3. Incomplete support Outlook
Contrary to what you may say "non-business" -Users iPhone 3G, iPhone does not fully support Outlook. More precisely, iPhone 3G syncs only contacts and calendar, but does not synchronize notes and a list of scheduled cases. It's annoying when you've done a lot of notes, an important event and there is no list, helps to keep in good shape and not to forget anything. Users have to install separate applications to store this information and torturing yourself with the idea that you have to re-enter all the necessary data.
4. The absence of the usual Copy / Paste
Despite the fact that Apple has done a lot in terms of technology development interface of mobile devices, the iPhone is not included such a simple opportunity to accompany us for many years - everyone's favorite couple "Copy / Paste". This feature in Windows Mobile devices there, and its full speed is used to copy the contact information, writing e-mail, in SMS - yes anywhere. Here, users have to go back to the stone age, when different applications are not able to communicate on the fly with each other.
5. The camera is disappointing
Two-megapixel camera on the new iPhone repeats its predecessor, 2007. In its place could well be put trehmegapikselnoy with built-in flash. Although it would be even more draining the battery. It may be added that the pictures that she does in daylight, do not seem too shabby, and the camera does not pereosvetlyaet background. In contrast to what has been said we may add that we should not expect good pictures in low light - the lack of stabilizer and flash makes the likelihood of blurry pictures is much higher.
6. No download manager
In most countries, mobile 3G connection remains expensive. The tariff plan with a negligible amount of traffic included in it, costs about $ 100, for example, in Australia. In many countries, fully developed by today's standards in Europe the situation is no better. It would be nice to have a download manager for managing the downloaded data and control of all downloads in the past month. Since up to now it is not visible in the Apple Store, its creation would be a good idea for the developers.
7. The lack of built-in voice dialing
Since this is a standard feature in devices Windows Mobile, I wonder why Apple has not implemented the voice dialing. This is very useful when the number of contacts passes for 500. It is also useful when you are busy hands. Perhaps there could help Microsoft to something like their Microsoft Voice Command for Windows Mobile, winning many awards.
8. No camera on the front side
Despite the fact that the tariff plans for 3G connection are quite expensive, the possibility of video calls and video conferencing is tempting.
9. Disadvantages handwriting recognition
Pretty good idea to recognize finger input window I quite impressive size. Since this program is also not found in the stores Apple, this can be considered another idea for the developers.
10. No step GPS-navigator
At the time of iPhone 3G was no incremental software GPS-navigation. Although the appearance of small blue spots on the maps service Google Maps, besspopno impressive, but compared to the CoPilot, TomTom, Navman or Route66 this service seriously loses, as it shows a small mark on the 2D map from the bird's flight and the direction indicated by the fixed text. The same CoPilot gives step by step voice instructions, three-dimensional visual objects and much more dynamic navigation capabilities.
11. Just as in the song IPhone3G not "zalesh»
Oh, God, even the iTunes. Yeah, that's it. I understand that in a normal mp3 player much easier and more convenient to "fill" to your favorite music. But iTunes - it's just a nightmare to some. In order to synchronize with IPhone3G their favorite tracks, it took me about an hour, until I figured out all the tricky playlists.
12. No MMS
"My phone rang. Who says? - Elephant". Phone propikal and I ... And I'm just broken off - at iPhone3G NO service to receive MMS. It's a shame so much worth the money, and I can not send a picture to your friends from the party and even more can not get anything from them.
13. Officially, Apple iPhone3G phones are not sold in Russia
In order for me to call, still had to buy a special sim-card, which allows you to make calls from my gadget. And it's fun, I'm sorry. not cheap. It costs about 100 $.
Yes, craftsmen were able to crack the old firmware on the phones of this brand of the previous model. But when it happened again, until one can not exactly say. So if suddenly something happens to your phone's firmware, God forbid, save up the money for repairs.
Yeah, of course, iPhone3G, to be honest - it's cool. But the question is whether it is the money, for which he is selling? More precisely, you are willing to pay a lot of money for his image, and no more?
Decide, of course, you.